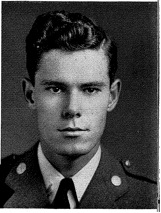 1941

Agronomy

Cadet Second Lieutenant, Company B, First Battalion, First Regiment; Kappa Alpha Sigma.

Ninety Six, SC

Wife: Bessie Davis; daughter Nancy Henretta King

Army, Captain, Commanding Officer

Company C, 313th Infantry Regiment, 79th Infantry Division

Purple Heart

Apr 30, 1919

Nov 23, 1944

Killed in Action in France

Epinal American Cemetery: Plot: B Row: 28 Grave: 56

SW
Personal Remembrances
Captain, Company C, 313th Infantry Regiment, 79th Infantry Division.  Killed in Strausburg, November 23, 1944 during the afternoon.  Taken back by Captain William Drake to Epinal and buried with full military honors the day after Thanksgiving, Garrison of Strausburg.
Additional Information
Activities of the 79th Infantry Division at the time of Captain King's Death
After training in the United Kingdom from 17 April 1944, the 79th Infantry Division landed on Utah Beach, Normandy, 12-14 June and entered combat 19 June 1944, with an attack on the high ground west and northwest of Valognes and high ground south of Cherbourg.
The 79th cut across the Moselle and Meurthe Rivers, 13-23 September, cleared the Foret de Parroy in a severe engagement, 28 September-9 October, and attacked to gain high ground east of Embermenil, 14-23 October, when it was relieved, 24 October.  After rest and training at Luneville, the Division returned to combat with an attack from the Mignevine Montiguy area, 13 November 1944, which carried it across the Vezouse and Moder Rivers, 18 November-10 December through Haguenau in spite of determined enemy resistance, and into the Siegfried Line, 17-20 December.
Source – https://www.history.army.mil/html/forcestruc/cbtchron/cc/079id.htm
Related Images Click to Enlarge