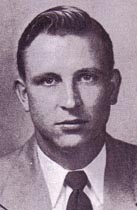 1950

Industrial Education

Veteran 1, 2, 3, 4; Iota Lamda Sigma 2, 3, 4, President 4; Amateur Radio Club 3, 4

Hickory Grove, SC

Wife: Dorothy Anne Smarr; 3 sons: Albert, Richard, and John; 2 daughters: Linda and Joan

Army, Colonel

Territorial Forces Division, Advisory Team I, Military Assistance Command Vietnam

Legion of Merit; Bronze Star with Oak Leaf Cluster; Meritorious Service Medal; Air Medal with Oak Leaf Cluster; Army Commendation Medal with three Oak Leaf Clusters; Prisoner of War Medal, Good Conduct Medal, American Defense Medal, American Campaign Medal, European-African-Middle Eastern Campaign Medal with 3 Service Stars, World War II Victory Medal, Army of Occupation Medal, National Defense Service Medal, Korean Service Medal with 2 Service Stars, UN Service Medal, Vietnam Service Medal with 3 Service Stars, Republic of Vietnam Gallantry Cross Unit Citation with Palm, Republic of Vietnam Campaign Medal, Vietnamese Medal of Honor, Aerial Gunners Wings, General Staff Identification Badge

Oct 4, 1924

Feb 25, 1972

Killed in action. Col Smarr was lost while flying as a passenger aboard a helicopter which crashed in Da Nang Harbor, South Vietnam. Col Smarr, as Chief, Advisory Team I, Territorial Forces Division, was accompanying his counterpart, a high ranking ARVN General officer, on a liaison visit to the Destroyer USS Craig, a ship of the U.S. 7th Fleet. On lifting off from the ship, the helicopter tail rotor impacted a railing on the ship's deck causing the helicopter to crash into the sea. Only three of the ten personnel on board the helicopter survived the crash.

Col Smarr's body was recovered and buried in Arlington National Cemetery, Arlington, VA.

NW
Personal Remembrances
The following tributes were copied with the approval and provided courtesy of the Vietnam Veterans Memorial Wall Page, www.thewall-usa.com
"I remember your father and your family.  Your dad was always a lot of fun and packed with energy!  I am sorry that I never got in touch with your family when I learned of your father's death, I was just twelve.  He has been my connection to the Vietnam War. My daughter is a senior in college now and plans to teach High School History.  Needless to say, we have talked about this time in our country and always remembered your father very fondly.  The last thing that I remember of your dad was him wrestling with Joanie and my sister at your house on base.  We have been to Washington, DC several times and always make it to the Wall and touch your dad's name.  His service means a lot to me and to us all.  Please know that we appreciate him and your family and that we are sorry for your loss.  It's strange because we are now older than your father when he died.  I can't even begin to imagine.  Remember the good times and please take care! Please say hello to all."
Beth Joye Sullivan
Friend of his oldest daughter Linda
Lexington, SC
June 3, 2009
Additional Information
Citation to Accompany the Bronze Star Medal issued by Headquarters, 25th Infantry Division, 19 July 1952 to First Lieutenant Albert W. Smarr, Armor, Headquarters, 25th Infantry Division, United States Army.  During the period 10 September 1951 to 13 July 1952, in Korea, Lieutenant Smarr performed his successive duties as tank company platoon leader and aid-de-camp to the Commanding General in a superior manner.  Evincing outstanding initiative, professional skill and exemplary resourcefulness, he constantly achieved superior results by establishing high standards of performance.  As aid-de-camp to the Commanding General, his tact, enthusiasm and soldierly conduct merited the respect and confidence of his superiors and associates alike, and contributed materially to the success of the division in combat.  Lieutenant Smarr's engaging personality and devotion to duty reflect great credit upon himself and are in keeping with the high traditions of the United States Army.  Entered the Federal service from South Carolina.
Citation to Accompany the Air Medal issued 15 March 1945 by Headquarters, 390th Bomb Group (H), 3rd Air Division, 8th Air Force to Sergeant Albert W. Smarr, Jr.:  For meritorious achievement while participating in heavy bombardment missions in the air offensive against the enemy over Continental Europe.  The courage, coolness, and skill displayed by these Officers and Enlisted Men upon these occasions reflect great credit upon themselves and the Armed Forces of the United States.
Col Smarr's name is listed on the Vietnam War Memorial Wall on Panel 02W, Line 111.  His name is also listed on the State of South Carolina War Memorial Wall on the York County Panel.
Col Albert Smarr was a veteran of service in World War II and in the Korean War.  He enlisted in the US Army in September 1943 at Fort Jackson, SC and served in the US Army Air Force as a B-17 gunner and radio operator assigned to the 570th Squadron, 390th Bomb Group (H), 13th Bomb Wing, 8th Air Force in the European Theatre in WWII.  He was shot down over Berlin in March 1945, taken prisoner, and held in Stalag Luft 1A in Berlin by the Germans.  He was freed when the Russian Army liberated Berlin in May 1945 and was honorably discharged from the AAF in the grade of Staff Sergeant on 4 November 1945.
Col Smarr graduated from Clemson in 1950 and received his commission through direct appointment (non-battlefield) on 13 Jan 1950 as an armor officer in the US Army.  After attending Basic Officer Courses in both infantry and armor, he served as a platoon leader with the 89th Tank Battalion in the Korean War.  In February 1952 then Lt Smarr became aide-de-camp to the Commanding General of the 25th Infantry Division, a position he held for two and a half years.  Subsequently, Col Smarr commanded a company in the 57th Tank Battalion, V Corps in Germany and later was the Assistant S-3 on the battalion staff.
In March 1956 he was assigned as the Assistant G-1 at the Armor Center, Fort Knox, KY and followed that assignment by attending the Armor Officer Advanced Course.  In June 1957 he was assigned as Assistant Professor of Military Science at the University of Virginia and, in 1960, was assigned to the Seventh Army Training Center in Germany.  After attending the Command and General Staff College and serving as the S-3, 3rd Brigade, 1st Armored Division at Fort Hood, he served his first tour of duty in Vietnam in 1965 as an Advisor to the 25th ARVN Infantry Division.  Later, while assigned to the staff of Plans Division, Office of the Deputy Chief of Staff, Department of the Army, Col Smarr returned to Vietnam to participate in a study of the feasibility of the use of armor in Southeast Asian Warfare.
From 1968-1970, he was a Battalion Commander and Brigade Commander at the US Army Training Center, Infantry, Fort Jackson, SC.  In August 1970, Col Smarr was assigned to the US Army Signal Center and School, Fort Monmouth, New Jersey, as Chief of the Tactics Division, Department of Command Communications.  Upon his promotion to Colonel, he was assigned as Deputy Director, Department of Command Communications.
Col Smarr returned to Vietnam in July 1971 as Chief, Territorial Forces Division, Advisory Team 1, Military Assistance Command Vietnam.
In December 1972, the Readiness Directorate of the Logistics and Readiness Center (Building 291) at Fort Monmouth, NJ was dedicated and named for Col Smarr.  Fort Monmouth re-dedicated Smarr Hall in June, 1998 at which time Col Smarr's family received the POW medal posthumously.
Click here for the Smarr Hall dedication program.
Click here for the Smarr Hall re-dedication program.
The following was taken from an obituary article which was researched and provided on 4 November 2009 courtesy of Ms. Debra Bloom, Local History Manager, Richland County Public Library, Columbia, SC.  The article appeared in The State Newspaper, Columbia, SC, on Saturday, March 4, 1972, Page 14B.
Col Smarr Killed in Vietnam Action
Col Albert Ward Smarr, Jr., previously believed missing in action was killed in action Feb 25. Col Smarr, a native of Hickory Grove and a Clemson graduate, previously commanded the 6th Battalion and the First Brigade at Ft Jackson.  A memorial service will be at Chapel No. 3, Ft Jackson.  Burial will be in Arlington National Cemetery, Arlington, VA.
Surviving are his widow, Mrs. Dorothy Anne Smarr; three sons, Albert, Richard and John Smarr of the home at 105 Knollwood Dr., two daughters, Linda and Joan Smarr of the home; his mother, Mrs. Albert W. Smarr Sr. of Hickory Grove; a brother, William D. Smarr of Greenville; and four sisters, Mrs. David B. Jett of Aiken; Mrs. G.W. Brown Jr. of Charlotte, N.C., Mrs. W.C. McClure of Casper, Wyo., and Mrs. J.C. Bankhead Jr. of Charlotte, N.C.
Related Images Click to Enlarge
Extra Documents
Three War Veteran – Vignette written by Kelly Durham for The Echo