Alfred Parker McPeters, Jr.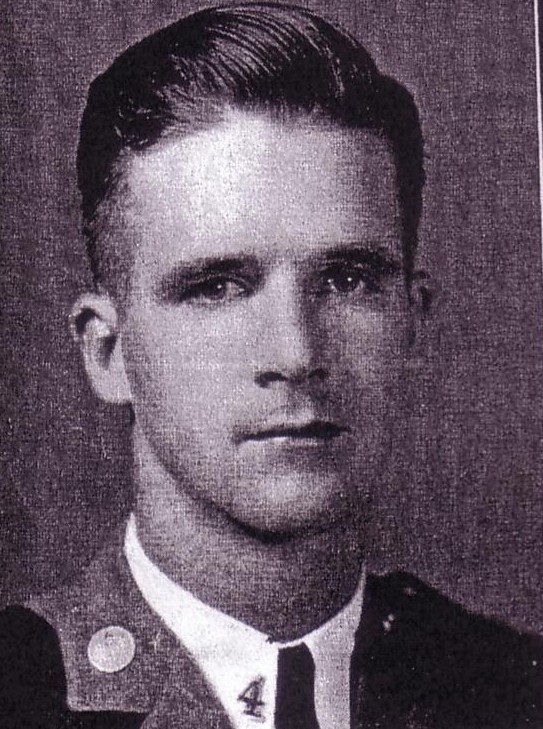 1937

Textile Engineering

Cadet Sergeant, First Lieutenant, Palmetto Literary Society, S.G. Club, Athletic Office

Savannah, Georgia

Married Alice McDonald. One Son - A. P. McPeters, III

Army, First Lieutenant

315th Regiment, 79th Infantry Division

Purple Heart, Silver Star, Distinguished Service Cross.

Nov 6, 1913

Aug 28, 1944

Killed in Action

Normandy American Cemetery, Plot A, Row 3, Grave 22

SE
Additional Information
Distinguished Service Cross Citation:
"The President of the United States takes pride in presenting the Distinguished Service Cross (Posthumously) to Alfred P. McPeters (0-352153), First Lieutenant (Infantry), U.S. Army, for extraordinary heroism in connection with military operations against an armed enemy while serving with Company C, 315th Infantry Regiment, in action against enemy forces on 28 August 1944.  First Lieutenant McPeters' intrepid actions, personal bravery and zealous devotion to duty at the cost of his life, exemplify the highest traditions of the military forces of the United States and reflect great credit upon himself, his unit, and the United States Army.   Headquarters, Third U.S. Army, General Orders No. 206 (1945)"
The 79th InfantryDivision sailed for the United Kingdom in April 1944 and landed in France over Utah Beach just a week after D-Day.  The division entered combat on June 19 and was tasked with cutting off the Cherbourg Penninsula and capturing the crucial French port of Cherbourg.  On June 25, near Hardinvast, at the base of the peninsula, McPeters, earned the Silver Star—and the Purple Heart.  While leading his platoon against a heavily defended enemy position, the 30-year-old was struck by a grenade fragment.  Although bleeding profusely, McPeters administered first aid to himself and continued to direct his men until the enemy strongpoint was neutralized.  Only then, and only when ordered by a more senior officer, did McPeters seek medical treatment.
Assigned to Lieutenant General Courtney Hodges' First Army, the 79th Infantry Division remained on the offensive throughout July, crossing the Ay, Sarthe and Seine Rivers as First Army chased the retreating Germans across France.  In late August, with Allied supply lines stretched, the Germans counterattacked.  In fierce fighting that lasted for a week, the 79th held its lines, but First Lieutenant McPeters was killed.  In this battle, McPeters' 'intrepid actions, personal bravery and zealous devotion to duty at the cost of his life' earned him the nation's second highest decoration for valor, the Distinguished Service Cross.
Copied from The Clemson Alumni Association newsletter = Echo
Related Images Click to Enlarge
Extra Documents
Cited twice for valor under fire, Clemson Hero Alfred Parker McPeters fell on this date during the liberation of France – Vignette in The Echo written by Kelly Durham