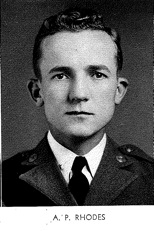 1941

Electrical Engineering

Cadet Captain, Commander, Company F, Second Battalion, Second Regiment; Company; American Institute of Electrical Engineers; Oconee County Club; Company Commanders Club; Senior Platoon; Pershing Rifles; Sharpshooter, ROTC Camp, Fort McClellan, AL.

Walhalla, SC

Parents - Mr. and Mrs. G. E. Rhodes

Navy, Lieutenant (Junior Grade)

USS Atlanta (CL-51)

Purple Heart

Dec 8, 1919

Nov 13, 1942

Killed in Action

Memorialized at Manila American Cemetery, Fort Bonifacio, Manila, Philippines; West View Cemetery in Walhalla, SC; Oconee (SC) County War Memorial; and a plaque that originally was in the Walhalla High School Memorial Stadium, but is now in the history wing of Walhalla High School.

NW
Personal Remembrances
Allison P. Rhodes was the first of the Oconee boys to give his life in the WWII effort.  A new destroyer escort vessel was named in his honor.  The Oconee County VFW in Walhalla was also named after Allison P. Rhodes.  He was a member of St. Luke Methodist Church, and very popular in the community.  His father was a printer for the Keowee Courier, so there were various articles written about him.  (My contact at the Courier was Ashton Hester, the News Editor. I had no knowledge of this at initial contact, so I had Ashton write a brief summary of the family's information.)  This knowledge led me the immediate location of his relatives living in the area.
"The Keowee Courier newspaper in Walhalla has a special connection to Allison Rhodes, one of the Clemson alumni who their lives in World War II.  His father, G.E. "Elliot" Rhodes, was the longest-ever full-time employee in the Courier's 161 year history.
Mr. Rhodes was employed in the Courier's print shop from 1911 until his death in 1952.  Except for the early years, he was the foreman. He was considered one of the finest and most respected printers in the state, and this was made all the more remarkable by the fact that he was born deaf and could not speak--having to communicate by sign language.
People who worked with Mr. Rhodes at the Courier have told me that, although he could not speak, he was able to otherwise communicate his feelings so that there was no doubt when he was not pleased with how things were going in the print shop.  The Keowee Courier joins in the salute of Allison P. Rhodes and the other Clemson alumni who lost their lives in this nation's wars."
Ashton Hester
News Editor
Keowee Courier
March 3, 2010
Additional Information
Allison Phidel Rhodes was appointed ensign, U.S. Naval Reserve, 2 June 1941 and after training was ordered to USS Atlanta (CL-51).  Reporting for duty in that vessel 10 January 1942, he served in her during the Battle of Midway, the landing on Guadalcanal, and the Battle of the Eastern Solomons.  Lieutenant (junior grade) Rhodes was killed in action as his ship fought her last battle, the Naval Battle of Guadalcanal, 13 November 1942.
Extract from: https://www.history.navy.mil/danfs/r6/rhodes.htm
Allison P. Rhodes was born in Walhalla, SC, in 1919; graduated from Walhalla High School in 1937 and entered Clemson College with the class of 1941.
While at Clemson, "Dusty," as he was known to his fellow cadets, was a company commander, a member of the Senior Platoon, and a member of the American Institute of Electrical Engineers.
He entered the naval reserve as an engineering officer in July, 1941.  Before being sent into the combat zone, "Dusty" took special officers' training at Georgia Tech, Washington DC, and Bowden College at Brunswick, Maine.  He was promoted to the rank of Lieutenant Junior Grade and sent into the Pacific theater of war. It was there that he met his death.
"Dusty" Rhodes gave his life, his youth, for a cause he believed in. He fought and accepted death, alone, many miles from his home and loved ones.  Many of us fear death, none of us understand death, but perhaps this quiet, unassuming youth faced the darkness and uncertainty with this thought of Tennyson's in his mind: "For tho' from out our Bourne of time and place, The flood may bear me far, I hope to meet my pilot face to face, When I have crossed the bar."
Allison Rhodes made the supreme sacrifice.  He gave up man's most guarded possession, the only thing which man has not been able to create – Life!
He gave his life so that you and I, your children and my children might have a better, a freer world in which to live.
Extract from The Tiger the Clemson student newspaper.
The USS Rhodes (DE-384) was an Edsall-class destroyer escort built for the United States Navy during World War II.  She served in the Atlantic Ocean and the Pacific Ocean and provided destroyer escort protection against submarine and air attack for Navy vessels and convoys.  Post-war she served the Navy as a radar picket ship.
She was named in honor of Lieutenant (junior grade) Allison Phidel Rhodes who was killed in action as USS Atlanta (CL-51) fought her last battle, the Naval Battle of Guadalcanal, on November 13, 1942.  She was laid down by the Brown Shipbuilding Company at Houston, Texas on April 19, 1943, and was launched June 29, 1943.  Her sponsor was Mrs. G. E. Rhodes, mother of Lieutenant (junior grade) Rhodes, and was commissioned on October 1943, Lieutenant Commander E. A. Coffin of the United States Coast Guard in command.
Extract from:
https://en.wikipedia.org/wiki/USS_Rhodes_(DE-384)
Related Images Click to Enlarge
Extra Documents
Vignette in The Echo written by Kelly Durham – Trained In Infantry, Served In Navy