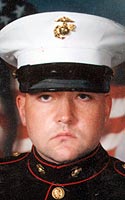 2000

Business

Chelmsford, MA

Marine Corps, Lance Corporal

2nd Battalion, 2nd Marine Division

Purple Heart

May 30, 1978

May 21, 2004

Killed in Hostile Action. While patrolling the Al Anbar Province he was struck by a vehicle, possibly driven by an Iraqi resident.

Pine Ridge Cemetery, Chelmsford, MA

NE
Additional Information
BOSTON  AP — A Marine corporal has died in Iraq less than two weeks before his 26th birthday. Cpl. Andrew Zabierek, 25, died Friday south of Baghdad while serving in the 2nd Marine Division, 2nd Battalion, according to a statement released Saturday by U.S. Congressman Marty Meehan.  The 2nd Marine Division is based at Camp Lejeune, N.C.
Zabierek, who arrived in Iraq in March, was patrolling the Al Anbar province of the country when he was struck by a vehicle, possibly driven by an Iraqi resident, Meehan told The Sun of Lowell, Mass.  His father, Stephen Zabierek, told the newspaper he expected to learn more details on Tuesday.
Zabierek, a Clemson University graduate, worked for American Express Financial Advisors in Waltham before volunteering for military service after the Sept. 11 attacks, which affected him deeply, his father said. "Andrew could have been an officer, but he chose to start out as an enlisted soldier," he said. "His point was, how do you lead a grunt if you don't know what a grunt goes through every day?"  Stephen Zabierek said his son had a difficult life in the Middle East, but he enjoyed talking to Iraqi children and said they would flock around him and ask questions about America and his family.
Andrew Zabierek's grandfather was a World War II bombardier and his father served four years in the Navy in the early 1970s.  His younger brother, Mark Zabierek, is a second lieutenant and intelligence officer in the Air Force.
Andrew Zabierek, of Chelmsford, Mass., was almost halfway through his four-year commitment to the Marines, The Sun reported.  "I am deeply saddened by the loss of Andrew.  He was a brave young man," Meehan said.  "Andrew answered his call to duty and made the ultimate sacrifice for the freedom of the United States, Iraq, and the world.  We owe him all a debt of gratitude."
Source: https://www.mco.com/valor/257294.html
CHELMSFORD – Lance Cpl. Andrew Jonathan Zabierek, 25, a Chelmsford resident who joined the Marines to aid America's campaign against the terrorist attacks on Sept. 11, died Friday, May 21, while responding to a mortar attack during a patrol in the province of Al Anbar, south of Baghdad, Iraq. The infantryman was struck and killed by an Iraqi truck driver and the Pentagon continues to investigate the incident, which has been ruled as a hostile action.
Born in Lowell on May 30, 1978, he was a son of Stephen A. and Judith M. (Sorbello) Zabierek of Chelmsford. He graduated from Chelmsford High School in 1996, and received a bachelor's degree in financial management from Clemson University in 2000.
In a story in Monday's editions of The Sun, Mr. Zabierek's parents said their son was deeply motivated to serve in the military after the attacks on America on Sept. 11, 2001. They recalled how he postponed a promising career in finance to enlist in the U.S. Marine Corps.
Mr. Zabierek served as an infantryman and Arabic interpreter with the U.S. Marine Corps., 2nd Marine Division, 2nd Marine Battalion, 3rd Platoon, Fox Company, based at Camp Lejeune, Jacksonville, N.C.
Before he entered military service, he was a financial advisor at American Express in Waltham.
He enjoyed camping and fishing. While growing up in town, he was a member of the Chelmsford Baseball Little League, Pop Warner Football and the Cub Scouts.
In addition to his parents he is survived by a brother, Air Force Lt. Mark Zabierek, stationed at Goodfellow Air Force Base in San Angelo, Texas; his maternal grandparents, George and Josephine (Sgroi) Sorbello of Chelmsford; several aunts and uncles and their spouses, including, Patricia and Richard Franklin of Orlando, Fla., Ann Marie and Robert Martin of Lowell, Stanley and Louise Zabierek of New Ipswich, N.H., Bo and Sue Zabierek of Sherman Mills, Maine, Walter Zabierek of Littleton, Linda Johnson of Derry, N.H., Pamela Walton and Larry Ercolani, both of Dracut. He also leaves numerous cousins, as well as countless close friends and fellow Marines.
TRIBUTE TO LANCE CORPORAL ANDREW ZABIEREK, USMC — (House of Representatives – June 02, 2004) by Martin Meehan, member of Congress from ????
(Mr. MEEHAN asked and was given permission to address the House for 1 minute and to revise and extend his remarks.)
Mr. MEEHAN. Mr. Speaker, I rise today in honor of a true hero, Marine Lance Corporal Andrew Zabierek, who gave his life in service to our country.
Lance Corporal Zabierek died tragically on May 21, 2004, while serving on duty with the 2nd Marine Division, 2nd Marine Battalion, Third Platoon near Baghdad.
At the funeral service for Lance Corporal Zabierek on May 29 at Saint John's Church in Chelmsford, Massachusetts, Mark Zabierek delivered an eloquent tribute to his brother that touched me and others who were present. He described the lifelong dedication that Andrew gave to his beloved family and friends and the supreme sacrifice he made in service to his country.
Mark Zabierek's touching eulogy to Andrew should be of interest to all of us here. I will read an excerpt and ask that the statement be included in the RECORD in its entirety:
"In an age where many people's idea of patriotism and civic responsibility are diminished by a sense of materialism, I was touched that my brother put his life on hold to join a service that most certainly would have brought him to the thick of the fighting overseas. He abandoned any other professional and personal designs to embrace a culture of service to his country and to our flag which now, tragically, drapes his coffin."
Mr. Speaker, I think we all should take a moment to recognize Lance Corporal Zabierek. Andrew died fighting for the country he loved, alongside his comrades he respected. Our Nation is humbled and grateful for his sacrifice.
Mr. Speaker, the full eulogy given by Andrew Zabierek's brother Mark is as follows:
Eulogy for Lance Corporal Andrew Zabierek, USMC
(By Mark J. Zabierek)
I've always looked up to my bother, Andrew. From when we were young he was my role model, my hero, my friend. I wanted to be just like him, do everything he did. He had a rare sense of honesty and empathy that I could only try to emulate. Even in later years, if we fought, as brother's do, there was nothing said between us that could erode my love for him. I truly admired who he was as a person and the depth of his consideration for others.
In the wake of September 11th, as he pondered joining the military, my family sometimes didn't understand why a college graduate so gifted as my brother would want to enlist for a nominal wage and risk losing what would have been such a full life. Simply, my brother was special. He wanted to be a part of something bigger than himself. He wanted to serve and honor and protect the things that he held dear in life. His sense of justice didn't enable him to accept that others would go to war for him to fight and die in his stead.
I was indescribably proud of Andrew when he decided to serve in the Marine Corps. He had a brilliant intellect and talents too abundant to mention that he left to serve a higher calling. In an age where many people's idea of patriotism and civic responsibility are diminished by a sense of materialism, I was touched that my brother put his life on hold to join a service that would most certainly bring him to the thick of the fighting overseas. He abandoned any other professional and personal designs to embrace a culture of service, service to his country and to the flag which now, tragically, drapes his coffin.
For Andrew and me, all our lives our flag was a symbol of hope, freedom, and purity. Now this flag also will remind our family profoundly of the loss of Andrew and the sorrow that comes from realizing the cost of the ideals he and I grew up cherishing. Sadly, our family will forever feel the burden of the sacrifice that enables our flag to fly.
Andrew's desire to serve, as I've said, came from a sincere longing to better the lives of the people around him, but even he couldn't have imagined just how many lives he has touched. The support, kindness, and sympathy of family, friends, this congregation and this community would have shocked my brother who was humbly unaware of the extent of the loving spirit of the people among him now. My family and I can never truly express our thanks, nor repay your altruism.
Andrew is deeply mourned in his death, but was incredibly loved in his life. We come from a large family, all who cherish the memory of Andrew. He embodied the best qualities of my parents and grandparents who loved him perfectly and completely. He had my mother's tenderness and faith and my father's honesty and humor. He had an impeccable sense of right and wrong and a heart filled with immeasurable compassion.
He never met cruelty with hatred, never met sorrow without sympathy, and we know he met death with courage and dignity.
That was our Andrew, my brother. He was kind, noble, and he was loved. We know that love will lift him up to a better place at God's right hand, and his spirit and grace will be part of us for all our lives, never to be forgotten.
END
Mark Zabierek, brother.   mzabierek@fairmontcg.com
Related Images Click to Enlarge
Extra Documents
Patriot's Perspective – Vignette written by Kelly Durham for The Echo