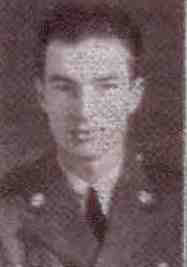 1944

Mechanical Engineering

Attended Clemson during 1941 and 1942 school years.

Clarksville, Georgia

Wife - The former Madge West of Salt Lake City, Utah

Army Air Force, Staff Sergeant

392nd Bomber Group

May 4, 1919

Jun 15, 1943

Non-Battle Death - Crash of 2 planes in New Mexico.

Providence Baptist Church, Batesville, GA

SW
Additional Information
392nd Bombardment Group
The group was activated in January 1943 at Davis- Monthan Field, Tuscon, Arizona; equipped with B24 Liberators, trained at Biggs Field, El Paso, Texas and Alamogordo Air Base, New Mexico.  The group was moved to England in August 1943 and was assigned to the Eighth Air Force at Wendling Air Base in East Anglia.  The group flew 285 combat missions, suffering 1552 casualties including 835 killed in action or line of duty and 184 aircraft lost.  In February 1944, the group was awarded the Distinguished Unit Citation for destroying an aircraft factory in Gotha, Germany.  In June 1945, the group returned to the United States and was inactivated at Charleston AAF in South Carolina in September of the same year.
Flying in B-24E #42-7146 Crew List:
1/Lt    Kaspervik, Donald W.  (P)
2/Lt    Ward, Ray E.           (CP)
2/Lt    Andrews, John V.       (N)
2/Lt    Ellis, Bruce G.        (B)
S/Sgt   Ressler, Eldon F.      (E)
S/Sgt   Wikle, Arthur P.       (Asst Eng)
Sgt     Chamovitz, Allen       (R/O)
S/Sgt   Scott, George L.       (G)
S/Sgt   Alexander, Andrew J.   (G)
2/Lt    Handy, Edward V. Jr.   (Observer)   At approximately 0650, "the group was headed due north  and had leveled off at 12,000 feet (about 3,000 feet above the mountains).  Lembright was dealing with turbulence caused by up and down drafts from the mountains and engineer T/Sgt Robison heard him tell the co-pilot that the plane was trying to skid to the right.  To keep his position on #146, Lembright had to look due east, directly into the rising sun.  Robison got the pilot's sunglasses from storage and was ready to hand them over when the flight smoothed out.  Without any warning, #071 slid toward the lead ship so that one propeller hit the lower part of #146's tail surface.  Then #071 moved slightly forward, causing even more damage to #146.  The collision knocked the left bomb bay door from Lembright's plane and tore the entire tail section from Kaspervik's.Both ships veered to the left.  1st Lt Alfred Scarlata, flying lead in the No.3 element, saw Kaspervik head down in a glide and Lembright pull his ship up in a steep climb that resulted in a stall.  From that point on, he told the Board of Inquiry, "I don't think they had a Chinaman's chance of getting out of that plane.  They didn't have enough altitude…and the violent action of the ship just held them in the airplane."Robinson's plane was down 1,000 feet before he was able to push himself out of the hole left by the missing bomb bay door only to discover that his chute was on backward.  When he finally pulled the ripcord with his left hand, he was at about 500 feet.  He landed hard, and by the time he recovered, both planes had crashed.  He got to the crash site as fast as he could, but found no other survivors.  Robison was later diagnosed with a fractured spine.  After an extended hospital stay, he was medically discharged from the Service in 1944.  He died in 1971.  Both crews were on their last flight before starting their pre-deployment leave.
Extract from: https://www.b24.net/missions/MM061543.htm
Related Images Click to Enlarge
Extra Documents
Last Flight – Vignette written by Kelly Durham for The Echo