Arthur Raymond Sellers, Jr.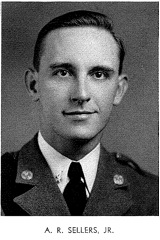 1941

Industrial Education

Cadet First Lieutenant, Executive Officer, Company D, First Battalion, Second Regiment; Iota Lambda Sigma; Wesley Foundation Council; Pee Deeans; YMCA Council.

Florence, SC

Husband to the former Miss Patricia Noble; One daughter, Margie Patricia.

Army, First Lieutenant

A Company, 306th Infantry Regiment, 77th Infantry Division

Bronze Star, Purple Heart

Mar 4, 1920

May 22, 1945

KIA on Okinawa. Fatally wounded as he was leading a group of men in combat against the enemy.

Buried at Memorial Cemetery of the Pacific, Honolulu, HI, Plot: Q Grave: 670
Additional Information
Action of the 77th Infantry Division at the time of Lt. Seller's death
The next combat assignment was Okinawa.  In late March (26-29), the Division made 15 landings, securing Kerama Retto and Keise Shima for the assault on Okinawa.  Riding at sea, 1-15 April 1945, it suffered casualties from enemy suicide attacks, and prepared for the assault landing on Ie Shima.  On 16 April 1945, the 77th landed on le Shima, captured the airfield, and engaged in a bitter fight for "Government House Hill" and "Bloody Ridge."  It was in this operation that Ernie Pyle was killed.  On 25 April, it left le Shima for Okinawa, relieving the 96th Division, 28 April 1945.  Fighting its way slowly against extremely heavy Japanese resistance, the Division, drove to Shuri in conjunction with the 1st Marine Division, occupying it 29-31 May.  In June the Division covered the right flank of XXIV Corps and "sealed" Japanese cave positions.  In July the Division moved to Cebu, Philippine Islands, and prepared for the invasion (later occupation) of Japan.  The Division landed in Japan in October 1945 for occupation duty, and was inactivated a few months later, 15 March 1946.
Source: https://www.history.army.mil/html/forcestruc/cbtchron/cc/077id.htm
Related Images Click to Enlarge