Augustus Massenburg Trotter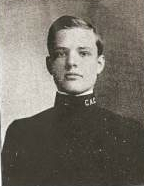 1915

Agronomy

Agricultural Society; YMCA Cabinet; Calhoun Literary Society; Senior Dancing Club; Clean Sleeve Club; Agronomy Club; Class Football

Camden, South Carolina

Army, First Lieutenant

Company A, 7th Infantry Regiment, 3rd Infantry Division

Distinguished Service Cross for heroism at Belleau Wood, France

Apr 13, 1895

Jun 21, 1918

Died of Wounds at Belleau Wood, France

Aisne-Marne American Cemetery and Memorial, Belleau, France. There is a memorial to him at the Quaker Cemetery in Camden, SC.

NE
Additional Information
The President of the United States of America, authorized by Act of Congress, July 9, 1918, takes pride in presenting the Distinguished Service Cross (Posthumously) to First Lieutenant (Infantry) Augustus M. Trotter, United States Army, for extraordinary heroism in action while serving with 7th Infantry Regiment, 3d Division, A.E.F., at Belleau Wood, France, 21 June 1918.  Lieutenant Trotter gallantly led his platoon through heavy machine-gun fire in an attack on a strongly fortified enemy position.  His platoon suffered heavy casualties, but he pushed forward until shot down near the enemy position.
In June 1918, Trotter and his comrades in the 3rd Infantry Division found themselves on the front lines of one of the fiercest American battles of the First World War, Belleau Wood.  German forces were attempting to exploit a gap in French lines when General 'Black Jack' Pershing, commander of the American Expeditionary Forces, committed the 2nd and 3rd Divisions to stop the enemy advance.  Over the next three weeks, the Americans and Germans launched one deadly counter attack after another and the Wood changed hands numerous times.  Fighting was tenacious, often hand-to-hand, and losses on both sides were heavy. Narrative by Clemson Researcher.
Related Images Click to Enlarge
Extra Documents
Vignette in The Echo written by Kelly Durham – Unlikely Hero; Exceptional Leader