Benjamin Waldrep Anderson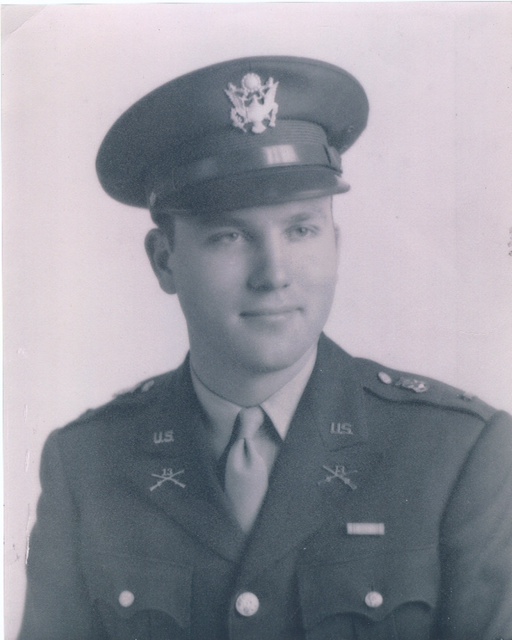 1941

Agricultural Economics

Edgefield, SC

Wife: Elizabeth Wheeler Anderson

Army, Captain

Company K, 13th Infantry Regiment, 8th Infantry Division, Third US Army

Distinguished Service Cross, Silver Star, Purple Heart.

May 31, 1919

Sep 5, 1944

Killed in Action at Brest, France. TAPS 1940

Brittany American Cemetery, St. James, France, Plot G, Row 12, Grave 8. There is also a cenotaph with his name in East View Cemetery, Edgefield, SC.

SE
Additional Information
Citation for Distinguished Service Cross:
"The President of the United States takes pride in presenting the Distinguished Service Cross (Posthumously) to Benjamin W. Anderson (0-414270), Captain (Infantry), U.S. Army, for extraordinary heroism in connection with military operations against an armed enemy while serving with the 13th Infantry Regiment, 8th Infantry Division, in action against enemy forces on 27 August 1944.  Captain Anderson's outstanding leadership, personal bravery and zealous devotion to duty at the cost of his life, exemplify the highest traditions of the military forces of the United States and reflect great credit upon himself, the 8th Infantry Division, and the United States Army."
The men of Anderson's K Company recommended him for the Silver Star with this citation: 'during the attack on July 13, 1944, he displayed courage far beyond the call of duty by his continuous, untiring activities on the front lines of his company and with complete disregard for his own personal safety led his command into the attack.  During heavy enemy artillery and small arms fire, Captain Anderson stayed with his men, exposing himself so as to give them all a few words of encouragement and at the same time gathering information as to the whereabouts of the enemy gun positions and obtaining information that was vital to the further advance and ultimate success of the company.'
The Official Silver Star (Posthumous) Citation Reads:
Captain Benjamin W. Anderson, 0414270, Infantry Company K, 13th Infantry Regiment, for gallantry in action on 13 July 1944 in and around ***, Normandy, France.  Commanding Company K, Captain Anderson was engaged in the first fire fight with the enemy.  The enemy were heavily entrenched with earth work, dugouts and pill boxes and using every means at their disposal in delaying the progress of Captain Anderson's Company. Enemy artillery were subjecting the advance to intense shelling.  Throughout the day and night Captain Anderson, with utter disregard for his own personal safety, exposed himself to enemy fire by continually moving through the forward elements of his command encouraging his men by his own example.  By his outstanding example of courage, his inspired company was able to take their objective.  Entered the military service from South Carolina.
The following letter was provided by Fletcher Anderson, Clemson Class of 2004. It is a letter from his grandfather Lt (j.g.) Joe Anderson after learning that his brother Benjamin had been killer in France. Fletcher stated "I don't think he ever got over losing his brother."   
U.S.S. HOLLANDIA (CVE-97)
16 October 1944
I am way out in Pacific now.  I am very fine and I am in good health.  As you know we cannot tell anything about our activities.  I received some mail a few days ago.  It was my first mail in several weeks.  I received the sad news of my brother's death. Ben's wife received a wire from the war department stating he was killed in action September 5th, in France.  Ben had been a Captain for about seventeen month and I imagine he would have been promoted to Major soon if he had not been killed.  I understand through Ben's wife that she felt Ben was with Pattons third Army.  As you know Patton is a hard driving General and he is to my mind one of our greatest army leaders.  Ben was in on a big drive in July and at that time he was recognized for his gallantry in action and was given the Silver Star and a citation from his superior officer.  I imagine Ben was killed in one of the big drives to break through to German soil early in September.
Ben was twenty-five years old May 31st.  He had a brilliant mind and on numerous occasions I have told him and written him he was much smarter than I am.  I wish I could have been fighting side by side with Ben when he was killed.  I wish we could have been fighting together.  I have a job to do over here now and I shall do it the best that I can.
I included Ben in all of my plans for the future after the war.  I had planned for us to work together as a team.  I had planned to put Ben out in front and as for myself I wanted to stay in the background and guide and direct Ben's movements and activities.  I recall that the last time that I saw Ben was on May 11, 1942, three days before I left Edgefield for Annapolis.  He was stationed at Fort Jackson at that time.  He and his wife came over to see me before I left Edgefield for Annapolis I remember that Ben and I had a long talk in my room that afternoon.  We discussed plans for our future after the war.  We were in perfect accord on everything.  However, I have had a feeling ever since that day that we would never met again.
If it shall be my fate to go as Ben did- to give my life for my country- I shall do so with a glad heart.  But if I live and return to Edgefield after the war, I shall try hard to carry on for Ben and myself.
Joe F Anderson
LT. (jg) USNR
Related Images Click to Enlarge
Extra Documents
A Brother Remembers – Echo Article written by Kelly Durham