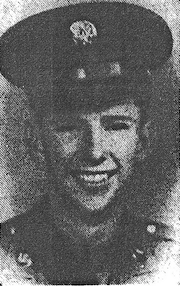 Civil Engineering

Hartsville, South Carolina

Army Air Force, Staff Sergeant

Jun 8, 1922

Mar 13, 1943

Died Non Battle - Died in a plane crash near Dunsmuir, CA

Magnolia Cemetery, Hartsville, SC

SE
Personal Remembrances
Additional Information
Accident report #108; Aircraft Model: RB-34; S/N #0-730471 Location: Portland Army Air Base, Oregon; Squadron: Hq & Hq Sq, Portland Air Defense Region Place of Departure: Red Bluff, California Intended destination: Medford, Oregon; Type of Mission: ferry Date: March 13, 1943
; 
Time: 13:00 PWT Location of Crash: SW slope of Hirz Mountain Reason for crash: Severe icing conditions were encountered, and control of plane was lost; Number of Persons aboard aircraft: Crew 
3 
Passengers 
3
 Total 
6
List of Crew (Crew position, Name, Rank, Status)
  2
nd
 Lt.      Hanna, Joe K.          Pilot                Fatal 1st Lt.       Smith, Robert M.     Copilot            Survived
Pvt.         Lawhon, Boyd P.   Engineer        Fatal

A/Cadet    Martin, G.               Passenger        Fatal Cpl.          Hazelton, C. D.       Passenger        Fatal Sgt.          Morris, H.               Passenger        Fatal
Narrative of eyewitness statements:
On March 13, 1943, at 1300 pwt, RB-34 #AJ-309 left Red Bluff, California for Portland Army air Base on a CFR flight plan with clearance to Medford, Oregon only.   According to statements by Co-Pilot Smith, a light overcast was penetrated soon after leaving Red Bluff.  The flight was continued through layers until the vicinity of Redding, California was reached.  The weather closed in and an ascent on instruments was attempted with anti-icing fluid and de-icer boots operating.   Extreme icing conditions were encountered and the plane immediately lost stable flying characteristics.  A 180 degree turn was attempted.  Passengers were instructed by Lt. Smith to put on their parachutes.  Lt. Smith abandoned the plane at approximately 13:15 pwt, after receiving instructions to abandon the plane from Pilot Hanna.
The time of the accident was determined as 1320 pwt.  It is presumed the plane continued it's turn out of control and descended until it struck the SW slope of Hirz Mountain.  The plane was completely demolished and the bodies of all but Lt. Smith were found near the wreckage.     Born in 1922 and raised in Darlington County, SC.  Two years of College.  He was a Machinist as a civilian before he enlisted on December 13th, 1941 in Charlotte, NC.
Related Images Click to Enlarge