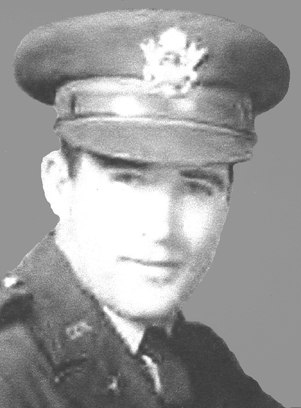 1939

Industrial Education

McBee, South Carolina

Wife - Laura Martin. Children - Leon and Quincy

Army Air Force, First Lieutenant

527th Bomb Squadron, 379th Bomb Group, Heavy (B-17 )

Purple Heart

Jul 30, 1915

Jun 11, 1943

He was the pilot of a B-17 on its second mission over Germany. His plane was attacked by two German fighters and shot down with only two crew members surviving.

Netherlands American Cemetery at Margraten, Netherlands, Plot I, Row 20, Grave 8. Memorialized in Union United Methodist Church Cemetery in McBee, SC.

NE
Personal Remembrances
Burrel was born in McBee in July, 1915, a son of Boyd J. and Sallie J. Newman.  He entered Clemson in 1933 but left after his junior year, and in 1937 married Laura Martin of Pendleton.  He returned to complete his college career with the Class of 1939, earning a BS degree in Industrial Education.
Burrel taught industrial education in Orangeburg for a year before entering the service on July 14, 1940.  He trained with the 29th Infantry Regiment and the 502nd Parachute Battalion in Fort Benning, and had jumped sixteen times while in the Parachute Battalion.  He transferred to the Air Corps, and was trained at Maxwell Field, Shaw Field, Spencer Field, Hendricks Field, and Sioux City, Iowa before being sent to England in April of 1943.  First Lieutenant Newman was the first pilot of a B·17, and was attached to the 527th Bomb Squadron, 379th Bomb Group, Heavy.  On June 11, 1943, he and his crew left their base in England on their second mission, to strike the shipbuilding yards in Bremen.  On the way they were diverted to a secondary target, the dockyards at Wilhelmshaven.  There they were attacked by two German fighter planes and shot down, with only the bombardier and gunner surviving.
Burrel was buried in Germany, but his body was later moved to the Netherlands American Cemetery at Margraten, Netherlands.  His grave is in Plot I, Row 20, Grave 8.  He was a recipient of the Purple Heart medal.  A memorial marker to Burrel was erected in 2003 in the Union United Methodist Church graveyard at McBee.
Burrel was survived by his wife Laura, and by their two children, Leon and Quincy Newman, both of whom are Clemson graduates.  He was also survived by his parents; four sisters, Eunice Newman Reese, Bernice Newman Blackwell, Frances Newman Finley, and Sarah Louise Newman; four brothers, Robert, Calvin, Bennie, and Charles Newman.
Biography written by James O, Sweeny, Clemson College Class of 1939.
Additional Information
Mission Number: 2 for the 379th flown on 6/11/1943 by SN 42-3138
Target City: Bremen / Wilhelmshaven , Germany
Target: U-boat Pens
Name                                 Rank                       Duties            Stat
Burrel F Newman     Lieutenant         Pilot             KIA
John D Culler                 Lieutenant           Co-Pilot           KIA George W Jackson       Lieutenant        Navigator        KIA Thomas B Kelley Jr.     Lieutenant       Bombardier      POW Edward E Hyvonen    Staff Sergeant    Radio Opr/Gun  KIA Leo A Gauthier          Staff Sergeant    Top Turret Gun  KIA James T Griffin         Staff Sergeant    Ball Turret Gun  KIA Joseph V Butterfield  Staff Sergeant    Right Waist Gun KIA Harold C Dudley       Tech Sergeant    Left Waist Gunr  KIA Raymond D Lauters   Staff Sergeant      Tail Gunner    POW    Mission Number: 2 for the 379th flown on 6/11/1943 Target City: Bremen/Wilhelmshaven , Germany Target: U-boat Pens
ODR) Primary Target Bremen – Weather report noted heavy clouds.
Seconday Target: Wilhelmshaven – Bombed Wilhelmshaven
Excerpt from Intelligence Report: S-2 NARRATIVE REPORT 
Thiry-one aircraft of 379th Bombardment Group were airborne at 1444, June 11, 1943 for the purpose of bombing, as a primary target, the naval ship building yard of the German Ship and Machine Building Co. at Bremen.  The secondary target was the naval dock yards in the Bauhafen, Wilhelmshaven.
Aircraft of the 524th, 525th, 526th, and 527th, squadrons comprised the 379th Group.  Taking the cue from the lead plane the formation by-passed the primary target at Bremen and proceeded to the secondary target of Wilhelmshaven.  Apparently this change of course was due to the weather report which stated that there was a heavy cumulus bank reported over Bremen.  Although three of our aircraft failed to drop their bombs on the target the results of the bombing by the other twenty-eight aircraft was observed to be good.
The strength of the enemy fighter opposition was formidable.  It was estimated that approximately two-hundred enemy fighters took part in the action including FW-190's, Me-109E's and F's, Ju-88's, and ME-110's.  Mostly their tactics in attack was to drive on our nose from high to level with a half roll through the formation.  Their markings were silver, grey molted, checkered, and many with yellow noses.  Some Me-110's had maroon and dark brown crosses on the wings.
Several crews reported that the enemy pressed the attack close to the noses of our aircraft.  In one instance an FW-190 was seen to collide head on with a Fortress.  Our stragglers were jumped on whenever the opportunity was presented to our opponents.
The general impression was that the enemy flak was slight to moderate; good as to range but erratic as to deflection.  No red bursts or other phenomena were noted.  One of our aircraft was hit in the number two engine nacelle by accurate fire over Heligoland.  Slight and inaccurate flak was encountered at Aurich and Noderney.
Aircraft 138 was attacked on his left wing and was seen to go down. No parachutes were observed in either of these events. At this writing, we have lost six aircraft, have had one man killed, twenty men wounded, and a total of sixty men missing.  Twenty-three crews and twenty-three aircraft returned to the base. NELSON H. NORGREN, Cap., Air Corps., S-2 Officer.
Note_ Captain George Hamrick,  Clemson Class of 1937, was also assigned to the 379th Bomber Group and was the pilot of a B -17.  He was downed and killed in action during the same raid as Lieutenant Newman.
Burrel Franklin Newman was born in McBee, South Carolina in July, 1915.  He was the son of Boyd J. and Sallie J. Newman.  He enrolled in ClemsonUniversity in 1933, but left in his junior year.  He returned in 1938 and graduated in 1939 with a degree in Industrial Education, and taught in Orangeburg, South Carolina for a year.
He then enlisted in the Army on July 14, 1940, and was assigned to the 29th Infantry Regiment at Fort Benning, Georgia.  While with this unit, he trained with the 502nd Parachute Brigade and made 16 jumps.  He transferred to the Army Air Corps, and was accepted for Aviation Cadet flight training.
His training was given at Maxwell Field, AL; Shaw Field, SC; Hendricks Field, IA; and Sioux City Field, IA.  He was assigned to the 379th Bomb Group and deployed overseas in April 1943.  Here he was further assigned to a crew of the 527th Bomb Squadron, located at Kimbolton, England.
The crew flew 2 missions, and on June 11, 1943, they were part of a raid with the intended target the shipbuilding yards at Bremen, Germany.  Because of inclement weather, the formation was diverted to a secondary target, the submarine pens at Wilhelmshaven, Germany.
The formation was attacked by approximately 200 enemy fighters over the target.  Two singled out Lt. Newman's plane, and shot it down.  Only 2 of the crew survived.  Lt. Newman was originally buried in Germany, but later moved to the American War Cemetery in Margraten, Holland.  He lies in Plot J, Row 20, Grave 8.
He left behind a wife, Laura Martin Newman and two sons, Leon and Quincy.  A memorial stone for him stands in the Union United MethodistChurch graveyard in McBee, South Carolina.
Copied from: https://airforce.togetherweserved.com/usaf/servlet/tws.webapp.WebApp?cmd=ShadowBoxProfile&type=Person&ID=161371
Related Images Click to Enlarge