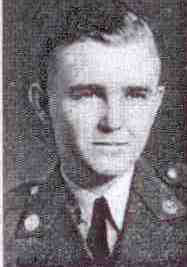 1944

Textile Chemistry

Belton, South Carolina

Parents: Mother - Lola W. Griffin, father was the deceased E. B. Griffin

Army, Second Lieutenant

60th Infantry Regiment, 9th Infantry Division

Silver Star, Purple Heart, Presidential Unit Citation, Good Conduct Medal, American Campaign Medal, European-African-Middle Eastern Campaign Medal, World War II Victory Medal

Sep 17, 1922

Apr 16, 1945

Killed in Action in Germany

Buried at Netherlands American Cemetery, Plot I, Row 2, Grave 2; Memorial marker in Belton Cemetery.

NW
Additional Information
2nd Lt., U.S. Army.  Born Sept. 17, 1922.  Entered service June 27, 1943, Ft. Jackson, Sumter, Clemson College, Shaw Field, S.C.; Santa Ana, Calif.; Ft. Meade, Md., Benning, Ga.; England; France: Belgium.  Killed in action in Germany, Apr. 16, 1945.   Attended Clemson College Baptist Church.  Son of Mrs. Lola Wardlaw and the late Mr. F.B. Griffin, 312 S. Main St., Belton, S.C.
After expanding the bridgehead, the regiment shot northeast where they helped seal and destroy the Ruhr Pocket.  Continuing northeast, the Regiment advanced toward the Harz Mountains, where for the first time, they were attached to a platoon of black volunteers.  While destroying a German roadblock, one black soldier, Pfc. Jack Thomas, won the Distinguished Service Cross for his actions.  After relieving the 3rd Armored Division, the Regiment held that line until VE day, and met up with Russian soldiers soon after.  For their actions in Central Europe, the Regiment won another Presidential Unit Citation and the regiment was inactivated in November 1946 while in Germany.
Extract from: https://en.wikipedia.org/wiki/60th_Infantry_Regiment_(United_States)
Related Images Click to Enlarge