Charles Oliver Farnum, Jr.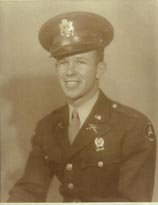 1940

Mechanical Engineering

Honors 1, 2; A.S.M.E; Tri-County Club; Junior and Senior Platoon, Rifle Expert

Orangeburg, South Carolina

Wife - Eloise Brown Farnum; Son - Charles Oliver Farnum, III

Army, First Lieutenant

2 Battalion, 442 IR, 36 ID

Silver Star, Purple Heart w/2 Oak Leaf Clusters, Presidential Unit Citation, Good Conduct Medal, American Campaign Medal, European-African-Middle Eastern Campaign Medal with 3 Bronze Service Stars, World War II Victory Medal, Combat Infantry Badge

Jun 5, 1919

Oct 20, 1944

Killed in Action - France

Sunnyside Cemetery, Orangeburg, SC

NE
Additional Information
Silver Star: The President of the United States of America, authorized by Act of Congress, July 9, 1918, takes pride in presenting the Silver Star (Posthumously) to First Lieutenant (Infantry) Charles Oliver Farnum, Jr. (ASN: 0-397343), United States Army, for conspicuous gallantry and intrepidity in action against the enemy while serving as Commanding Officer, Headquarters Company, 2d Battalion, 442d Regimental Combat Team, attached to the 36th Infantry Division, on 20 October 1944, near Bruyeres, France.  When Lieutenant Farnum learned that a carrying party from his company had been ambushed by a strong force of enemy riflemen, he immediately summoned reinforcements to come to the aid of his ambushed troops.  Without waiting for the reinforcements to arrive, Lieutenant Farnum hurried to the area and began working his way toward the enemy forces in a desperate effort to draw the enemy fire away from his carrying party.  Determined to save his men, even at the expense of his life, Lieutenant Farnum continued to advance toward the enemy position until he was cut down by a hail of hostile fire.  As a result of his daring, the carrying party was able to escape and the rescuing party which he had summoned was enabled to surround and destroy the enemy force.  His actions, without regard for his own safety, reflect great credit on himself and the Armed Forces of the United States.
Headquarters, 7th Army, General Orders No. 29 (February 2, 1945)
20 July 1944 – The day began with the 2d and 3d Bns dug in 75 yards from the railroad embankment, answering heavy sniper fire from the flanks and from Hill D.  This small arms fire also interdicted the road leading around Hill D towards Belmont and the road junction at 255569, where the engineers were attempting to mine-sweep in preparation for a tank advance.  During the night German snipers had also attacked a supply party from Hq Co, 2d Bn carrying rations to the front and in the action Lt Charles O. Farnum, commanding officer of Hq Co 2d Bn, was killed.  It was evident that some Germans had infiltrated under cover of darkness back to Hill D, and Co F, the reserve company of the 2d Bn, with an additional platoon from Co H armed with carbines, was ordered to neutralize this fire.
Extract from: https://www.history.army.mil/html/topics/apam/442_chrono.html
Article from the Orangeburg Times and Democrat, Sunday, October 23, 1994 – "Love for a Fallen Hero"
Submitted by: Fannie Farnum Jackson (sister) – Click to Read
1st Lt., U.S. Army. Born Jue 3, 1919.  Entered service Jan 22, 1942.  Fts. Mcclellan, Ala. Ga, Camps Gruber, Okla, Shelby, Miss; Africa.  Wounded in action in Italy, July 10 and 11, 1944: Killed in action in France, Oct. 20 1944.  Clemson Col. Methodist.  Son of Mr. and Mrs. C. Oliver Farnum, Orangeburg, S.C.  Husband of Mrs. Eloise North Brown Farnum, Greenville, S.C.
Related Images Click to Enlarge
Extra Documents
Charles Farnum, Jr. lost his life leading Japanese-American Soldiers – Vignette in The Echo written by Kelly Durham