Clarence King Hollingsworth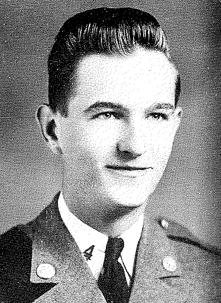 1941

Vocational Agricultural Education

Cadet First Lieutenant, Platoon Leader, Company E, Second Battalion, First Regiment; Alpha Tau Alpha; Greenwood County Club; Marksman, ROTC Camp, Fort McClellan, AL.

Troy, SC

Wife: Vivian McDowell Hollingsworth; Parents: Ernest Linwood and Agnes Dalton Hollingsworth

Army, Lieutenant Colonel

3rd Battalion, 28th Infantry Regiment, 8th Infantry Division

Distinguished Service Cross; Distinguished Service Order from British Government; Croix de Guerre from French government; Oak Leaf Cluster; Silver Star; Bronze Star; Purple Heart

Nov 22, 1919

May 16, 1945

Killed in Action in France

Ardennes American Cemetery, Plot: B Row: 39 Grave: 42; Memoralized in Bethany Baptist Church Cemetery, McCormick, SC

NW
Personal Remembrances
Troy Officer Dies in France
Lt. Col. Clarence Hollingsworth Died Of Wounds May 16
Lieutenant Colonel Clarence K. Hollingsworth of Troy died of wounds in a hospital in France on May 16 according to an official message received by his wife, Mrs. Vivian McDonald Hollingsworth.
The Troy officer was 26 years of age at the time of his death.  He was a graduate of Greenwood High School and attended Clemson College where he graduated in the class of 1941.  In this class 432 graduates entered service with the rank of Second Lieutenant.  He and one other attained the rank of Lieutenant Colonel.
He was inducted at Fort Jackson and arrived overseas in December 1943. For a short time he was in Ireland and arrived in France on July 5, 1944, serving in the 28th Infantry Division.  For a short time he was a prisoner of the Germans and it was very shortly after he was released that he was seriously wounded in France on April 14.
Extract from the Journal Index, Greenwood
Additional Information
"The President of the United States takes pride in presenting the Distinguished Service Cross (Posthumously) to Clarence K. Hollingsworth (0-414351), Lieutenant Colonel (Infantry), U.S. Army, for extraordinary heroism in connection with military operations against an armed enemy while serving as Commanding Officer of the 3d Battalion, 28th Infantry Regiment, 8th Infantry Division, in action against enemy forces on 14 April 1945.  Lieutenant Colonel Hollingsworth's outstanding leadership, personal bravery and zealous devotion to duty at the cost of his life, exemplify the highest traditions of the military forces of the United States and reflect great credit upon himself, the 8th Infantry Division, and the United States Army." Headquarters, Ninth U.S. Army, General Orders No. 289 (1945)
Resuming the attack the next morning, 2 December 1945, Combat Command "R", before noon had seized Brandenberg, taken approximately 300 prisoners and inflicted heavy casualties on the enemy.  The German defense was found badly disorganized after nightlong shelling by Division Artillery.  Capt. Clarence K. Hollingsworth's 3rd Battalion, the 28th Infantry quickly seized the remaining wooded terrain west of Brandenberg, and prepared to relieve Combat Command "R" in the town.  An enemy counterattack was repulsed during the afternoon.  Other elements of the 28th and 121st Infantry Regiments continued to attack to the west.
At 0730 the following morning, 7 December, the first of three enemy counterattacks during the day hit the 3rd Battalion of the 28th Infantry and Combat Command "R" in Bergstein.  The attack came first from the south, then from the southwest, then from the southeast.  Approximately 300 infantrymen, of Companies 1, 2 and 4 of the 980th German Infantry Regiment, made the attack.  They were supported by at least five self-propelled guns.  Riflemen of Company K and machine gunners of Company M held their fire while swarms of enemy crept toward them across 300 yards of open ground to within twenty-five yards of 3rd Battalion positions.  The burst of fire which hit the Germans on all sides at that moment threw them into a panic, and they started to retreat across the open ground.  Artillery fire caught them in the open without cover, and all the way down the Battalion line the Germans were beaten back and cut down.  For this courageous stand and for their outstanding work in the Hurtgen Forest during the five preceding days, the men and officers of Captain Hollingworth's 3rd Battalion, 28th Infantry, were awarded the Distinguished Unit Badge, a Presidential Citation.
Extracts of Combat History of the 8th Infantry Division During WWII pertaining to Clarence K. Hollingsworth at
https://www.techwarrior.cx/~roliver/8th/8th-chapter5.htm
Related Images Click to Enlarge
Extra Documents
Clarence Hollingsworth was one of Clemson's last combat casualties in the European Theater and one of the most highly decorated. – Vignette from The Echo written my Kelly Durham