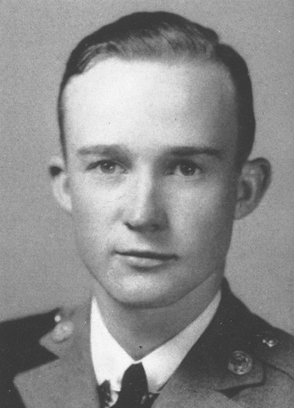 1939

Horticulture

Honors; Alpha Zeta; Animal Husbandry Club; Horticulture Club; Sophomore Platoon

Brunson, South Carolina

Army Air Force, 2nd Lieutenant

440th Fighter Squadron, 337th Fighter Group

Feb 15, 1920

Jun 16, 1943

While flying a P-40L plane out of Tallahassee Florida he was in a mid-air collusion with a similar aircraft near Pinellas AA Field.

Mount Pleasant Cemetery near Ehrhardt, South Carolina

NW
Personal Remembrances
Clem was born on February 15, 1920 in Brunson, SC, a son of C. Daniel and L. Rose Miley.  He entered Clemson in 1935, where he was an honor student and active in Alpha Zeta, the honorary agricultural fraternity, and as the horticulture editor of The Agrarian.  He graduated in 1939 with a BS degree in Horticulture.
Clem enlisted as a private in the Air Corps at Fort Jackson on March 31, 1942.  He attended OCS and was commissioned a 2nd Lieutenant in October, 1942.  He was sent to the Pinellas Air Force Base in Florida for training as a pilot.  After receiving his wings, he was assigned to the 440th Fighter Squadron, 337th Fighter Group at Drew Field near Tampa, FL.  On June 16, 1943 he was flying a P-40L plane out of Dale Mabry Field in Tallahassee, FL, and was five miles northwest of the Pinellas AA Field when was killed as a result of a mid·air collision with another similar aircraft.  His body was returned to his parents, and he was buried in the Mount Pleasant Cemetery near Ehrhardt, SC.  There was a graveside ceremony on June 20, conducted by Rev. W. J. Swindell.
Lieutenant Miley was not married.  Besides his parents, he was survived by one brother, who was then stationed at Fort Jackson.
Biography written by James O, Sweeny, Clemson College Class of 1939.
"I am forwarding to you information about Clemmons Carter Miley, a Clemson graduate who was killed during World War II.  He was born February 15, 1920 and died June 16, 1943.  Clemmons was a pilot in the Army Air Corps and died when the plane he was flying crashed during training maneuvers in Florida.  Clemmons was an honor graduate of Clemson; I am not sure the year, but most likely it was 1940 or 1941.  Thank you for establishing a Scroll of Honor or Clemson graduates who died in the service of our country.  Clemmons was my uncle and a beloved member of his family and community."
Miriam Miley Boucher
Additional Information
Accident Report : #52   A/C Model  P-40L-20CU  SN #  42-11108 337
th
 Fighter Grp, 440
th
 Fighter Sqn, Pinellas Army Air Fld, Fla Mission: Aerobatics and Combat Crash Location: Pinellas Fld Date: 16 June 1943       Reason Aircraft Lost: Collision     
Crew: Miley, Clemons C.     Pilot   2nd Lt.
Narrative: Lt. Johnson, leader of a four-ship flight, was on an authorized aerobatic and combat mission.  Lt Johnson was flying with his four ships in string formation for the purpose of carrying out mission.  While Lt Johnson's fight was flying at approximately 6000 feet, two ships led by Lt Claycomb of the 304th Fighter Squadron joined on the rear of the four-ship flight in string.  Lt Claycomb noticed that the distance between the second and third ship was large and decided to fill in this space.  Upon trying to close in on this formation and fill the large space between the second and third place Lt Claycomb found that he was not in the proper position to do so.  He then pulled away from the four-ship formation (but did not have his wing man on his wing).  Lt Easterlin, the wing man of Lt Claycomb had evidently failed to follow his leader and failed to keep the four ships in Lt Johnson's flight in view and in trying to stay with the formation allowed his plane to collide with the fourth plane in Lt Johnson's flight.  The fourth plane in Lt Johnson's flight (in which Lt Miley was pilot) was in a bank to the left causing Lt Easterlin's plane to be under and to the right of him and out of his sight
This accident is attributed 100% to pilot error: 50% judgment charged to other personnel, Lt Claycomb as leader of the two ship flight in making the decision to attempt to interpose his flight of two in between the airplanes of the four-ship flight.  50% carelessness on the part of Lt Easterlin in losing sight of the airplanes of the four-ship light and not following his leader Lt Claycomb.
Related Images Click to Enlarge