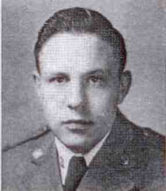 1944

Mechanical Engineering   

Rock Hill, South Carolina

Spouse: Dororthy E. Dover

Army Air Force, Second Lieutenant

337th Bomber Squadron, 96th Bomber Group

Purple Heart, Air Medal

May 8, 1944

KIA - Germany

Ardennes AMC, Plot: D, Row:12, Grave:6

NE
Personal Remembrances
Comments provided by a relative:
Clifton Dover was a bombardier on a B17.  His aircraft was shot down at Hiddestarf May 8th and he was buried at the Cemetery for Jews at Hoya, Germany May 10, 1944, Grave row 1, grave Nr. 12, along with the rest of the crew.  Two or three crew members may have become POWS.  One form in the report shows the Air District Command, Dulag Luft, Air Base HQs Sect. 12/XI, Captain Kerner Commanding and the reference to Clifton's location as Downing Elender, Endland.  One page shows the flight destination of Berlin.
Clifton is now at least the third pilot who was a Dover from the same area SC that was lost in WWII in the Army Air Force.  The other two were brothers (two gold stars in the same family) who were killed a day apart.
Additional Information
Missing Air Crew Report 4570.
B17 Tail number AC/SR 42-97403
Intended Destination: Berlin, Germany
Crew Members
Pilot:                                      Fancher, Milton
Co-Pilot:                                Kuhn, Olin R.
Navigator:                             Archer, Samuel O.
Bombarder:                         Dover, Cilfton M.
Engineer:                               Mathis, Howard H.
Radio Oper – RG:                 Amon, Gerald W.
Asst. Engineer – RW:            Parkinson, George F.
Asst. Radio Oper BT:            Young, James M.
Armorer – TG:                       Greco, Leon W.
Asst, Armorer – LW:             Rudder, Cecil D.
Narrative:
In the general area of 5243N 091E the formation was attacked by 30-50 enemy aircraft.  First attack coming at 0955 and knocking down approximately 5 aircraft.  Second attack coming at 1005 and knocking down 5 more.  Chutes were seen but could not be identified to any aircraft.  Also some aircraft went down under control and some out of control.  Accurate reports concerning individual aircraft are unavailable.
According to the 96th BG Unit History (Snetterton Falcons II – by Robert Doherty and Geoffrey Ward – book out of print) only three crewmen of A/C 42-97403 survived as POWs.  They were James Young (BT), George Parkinson (WG), and Leon Greco (TG). Milton Fancher (P)  and Clifton Dover (B) were listed as KIA.  There are no pictures in the unit history of this aircrew.  2/Lt Clifton Dover (B) was assigned to the 337th (Crew number 32) in April 1944 – at that point Olin Kuhn was listed as Pilot (P) and Merrill Scott as CP.  I was unable to determine when Milton Fancher was assigned to the 96th.  Statistically the 96th listed 10 A/C as MIA with 109 aircrew MIA on this mission to Brunswick.
Bill Taebel – 96th BG Webmaster – https://96bg.org/
Last Known Activity:
Clifton Massey Dover was born in Rock Hill, South Carolina in 1922.  He was the son of James R. and Lettie Hines Dover, with 1 brother and 1 sister.  He attended Rock Hill High School, and entered Clemson College in 1940, but was inducted into the service in 1943.
After basic training, he entered the Aviation Cadet Program, training as a bombardier.  He graduated from this course at Victorville, California as a member of the Class of 43-15.  On March 6, 1943, he married Dorothy Ferguson.  Commissioned as a 2nd Lieutenant, he was assigned as a replacement to the 96th Bomb Group, operating from Snetterton Heath, England.  Once there, he joined the crew headed by Lt. Milton Fancher in the 337th Bomb Squadron.  One source states he completed 6 combat mission, however, this cannot be verified.
On May 8, 1944, the crew took part in a raid on German war facilities around Hanover.  As the formation neared the target, it was attacked by 30-50 German fighters.  In the first pass, 5 B-17s were shot down.  In the 2nd pass, 5 more went down.  According to observers, the sky was filled with parachutes, and it was not possible to accurately detail which aircraft the chutes came from.
The B-17 of the Fancher crew crashed near Hiddestorf, German, just West of Verden.  The bodies were recovered from the wreckage and initially buried in the Cemetery for Jews in Hoya, Germany.  Lt Dover was buried in Row 1, Grave 12 on May 10, 1944.  Later, he was removed to the Ardennes American Cemetery in Belgium where he lies in Plot D, Row 12, Grave 6.  Copied from: https://airforce.togetherweserved.com/usaf/servlet/tws.webapp.WebApp?cmd=ShadowBoxProfile&type=Person&ID=157813
Related Images Click to Enlarge
Extra Documents
Vignette in The Echo written by Kelly Durham – Dover Helped Prepare the Way for the Invasion