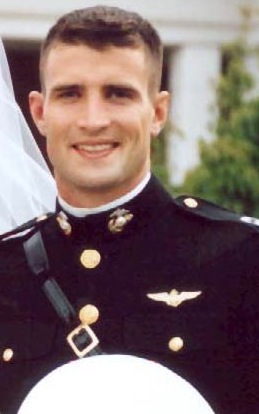 1996

Mechanical Engineering

University's Dixie Skydivers

Irmo, South Carolina

Wife: Jennifer Harkey, a Clemson University Graduate. Son: Daniel Gardner McCollum, Jr., born in 2002.

Marine Corps, Captain

VMGR-352 Marine Corps Air Station, Miramar, California. Elements were attached to Combined Task Force 58, in support of Operation Enduring Freedom

Dec 6, 1973

Jan 9, 2002

Died non-Battle - Crash of a Marine KC-130/R tanker as it approached a Marine Base in Pakistan.

Remains interred at Arlington National Cemetery with others in the plane. A memorial for all aboard is at Arlington. There is also a memorial marker to him at Bush River Memorial Gardens in Columbia, SC.

NE
Personal Remembrances
"Hey Dan, I miss you buddy.  I think about you all the time and will always remember the great memories I had with you at the Ryan's house.  I looked up to you and thought you were the coolest person.  Thanks for always writing me letters and keeping in touch.  Thanks for everything you have done for me and taught me.  You were a truly amazing guy and I'll never forget you."
-Kristy Gillies of Florida
"Family and Friends, It was over a decade ago that I studied with your son in flight school.  He was truly one of the nicest guys I have ever met and would go well out of his way to help others in any capacity.  I retire on December 9th and will be honoring him and his service during my ceremony.  He will always be remembered as a true friend and a dedicated family man.  His death will never be forgotten nor was it in vain.  Anyone who knew Dan was indeed blessed. Best Regards!" - Major Tom Knepper of Kansas City, Missouri
"Dan, You will always be remembered!!  Thank you so much for all that you did, and for just being you.  You were a great guy, and Irmo misses you.  We lost a great human being when we lost you.  Love always"
-Tess Bryant Lachance of Irmo, SC
"Bro, it's been six years today.  Still hard to believe you and Surender are gone.  Dave, Jay, Russ, Chris and me all talked about you today and prayed for you and your family. You will never be forgotten. Love you bro."
-Maj Tom Lankford of LRAFB, AR
-"Thank You Dan for every life you have touched.  Many years have gone by and I still think of you for inspiration.  God Bless You and Your Family."  -William Snow "Bell" of SC, USA
"To the family of Daniel G. McCollum.  Daniel gave the ultimate sacrifice and will be held in the hearts of Americans forever.  I cannot and will not let our fallen heroes be forgotten.  My deepest sympathy to you.  "Don't Let The Memory Of Them Drift Away."-Peggy Childers of Carson City, NV
"Thank you for giving all you had to make the world better for us."-Deputy Kendra Smith Brown of Lexington, SC
"To all who have left a message...Thank you for your support.  The past 4 years have been the hardest 4 years that my sister, Dan's wife, has ever had to endure.  Dan died doing what he loved to do, and for that we can all be thankful for the lives we are living today.  So, again, I say thank you for your ongoing support."
-Katy of Cape Girardeau, Missouri
"To the Family and friends of "Marine 7", Your Marine will be forever in my memory.  Our unit set up the base/tents/fuel system in late Sep. 2001. The Sep 11 attacks were still fresh on our minds.  The day your Marines deployed to our forward location.  I was asked to help set up the grounding wires for their aircraft on the parking ramp.  As an Air Force member I was amused and impressed by the rock "sidewalks" around the Marine tents. On Jan 9th I had flags flown on a KC-135 for my Family and friends.  The next day I found out a Marine plane had been lost.  I sat down on a fuel bladder, saddened by the news. I wondered if I knew any of them or if they had come to listen to country music cd's we played down by the beach.  I can't say I knew them, but they were ours for a short time.  Everyone mourned their death.  A "Soldiers cross" memorial service was held at the theater.  Later when I presented my flags to Family and friends, I told them of the sacrifice your loved ones made and how they should always remember our "Freedom isn't Free".  Thomas Jefferson 1787 "The tree of liberty must be refreshed from time to time with the blood of patriots and tyrants."  "Our Military isn't for everyone, but some do more than just volunteer and show up.  They go to the tip of the spear, where the fight is.  God Bless you for raising a Marine that did more."-MSgt William "Bill" Cordes (USAF Retired) Moody AFB Ga.
"Dan, It's been a couple of years now, but I still wanted to say, "thank you", not only for fighting for our country, but for being my childhood best friend."
-Capt BJ Pringle, USAF of Osan AB, ROK
"Capt. McCollum, Sir,  I would like to say thank you to you and the other Marines who were on that KC-130 with you.  And to your family, I wish to exend my deepest sympathy.  Semper Fi Devil Dog!"
"My prayers and thoughts go to the family and friends of Capt. Daniel Mccollum. I was watching the TBN channel yesterday night (Sept 4, 2005) and saw Mrs. McCollum give her story and as she gave her story I cried and cried sooo much because I'm also a military wife and my husband is also leaving soon to Iraq again after 6 months last year (this year for 1 year).  I know God will keep him save.  I believe in God so much and in his promises and i know he'll bring him back.  I feel so sadden by the loss of your husband Mrs. McCollum and I will pray and keep praying for you and you beautiful son that you have.  Please pray for me too.  God bless You and your family."
-Stella Pacheco of Ft. Campbell, KY
"To a brother Marine I regret I had not seen since high school.  Thank you for your devotion to our country and the wellfare of our future generations.  You will not be forgoten by either myself or my children.  Semper Fi."
-Stewart Ackerman of Atlanta, Georgia
"To Capt. McCollum's family, I am the wife and daughter of a Marine, and respect the courage that you are portraying now.  Your loved one fought for the greater good and will never be forgotten.  God Bless and our prayers are with you."
-Mrs. Cpl. J.L. Brown of Colton, CA
"Thank you Daniel McCollum, you will not be forgotten.  Your bravery goes beyond words.  I want to express my deepest gratitude for your sacrifice.  To the family and friends, my prayers and deep condolences in your loss.  May God strengthen you from knowing that fellow Americans and people around the world care about you and grieve with you in your loss.  God bless you all.  A very appreciative fellow American,"  Leo Titus of Grayslake, Illinios
"To the family and friends of Capt. Daniel McCollum: May God's grace be with you during your time of grief.  Please know that our thoughts and prayers are with you and we feel your loss and share in your sorrow.  Bless Daniel for the sacrifice he has made to make a better life for the rest of us."
-The Ford Family of Wells, Nevada
"To the family and friends of Capt. Daniel McCollum: I am saddened by the loss of your loved one.  He will always be remembered as a hero for fighting for freedom.  I hope that this website will be a source of comfort and encouragement for you during this difficult time, and in the future as you recall the memories of Daniel, who continues to live on in your heart."
-Tim Rivera of Powder Springs, Georgia
Additional Information
U.S. Department of Defense Office of the Assistant Secretary of Defense (Public Affairs) News Release   January 09, 2002 DOD IDENTIFIES SEVEN MARINES KILLED IN KC-130/R CRASH
The Department of Defense announced that the following Marines were killed as a result of the crash of a KC-130/R aircraft in Pakistan today:
Command Pilot: Captain Matthew W. Bancroft, 29, of Shasta, California.  He joined the Marine Corps in 1994.  Co-Pilot: Captain Daniel G. McCollum, 29, of Richland, South Carolina.  He joined the Marine Corps in 1993.  Flight Engineer: Gunnery Sergeant Stephen L. Bryson, 35, of Montgomery, Alabama.  He joined the Marine Corps in 1983.  Loadmaster: Staff Sergeant Scott N. Germosen, 37, of Queens, New York.  He joined the Marine Corps in 1982.  Flight Mechanic: Sergeant Nathan P. Hays, 21, of Lincoln, Washington.  He joined the Marine Corps in 1999.  Flight Navigator: Lance Corporal Bryan P. Bertrand, 23, of Coos Bay, Oregon.  He joined the Marine Corps in 1998.  Radio Operator: Sergeant Jeannette L. Winters, 25, of Du Page, Illinois. She joined the Marine Corps in 1997.
The Marines are assigned to Marine Aerial Refueler Transport Squadron 352 (VMGR-352), the "Raiders." Elements of VMGR-352 are attached to Combined Task Force 58, in support of Operation Enduring Freedom.  VMGR-352 is home-based at the Marine Corps Air Station, Miramar, California.  The cause of the crash is under investigation.
Captain Daniel G. McCollum, a '96 Clemson graduate, died last Wednesday while doing what he always loved – flying and serving his country.  McCollum was one of seven U.S. Marines killed when their refueling plane crashed into a mountainside in Pakistan.
According to his friends, McCollum dreamed of flying from his earliest years.  In fact, while he was at Clemson, he began not only his involvement with the Marines but also his participation in the University's Dixie Skydivers.  Jim Burriss, owner and operator of the drop zone at Oconee Regional Airport, met McCollum when the skydivers came to his drop zone.  He remembered that McCollum was always a nice guy who related well to anyone.  "He got along well with all kinds of people, whether he knew them or not, and he seemed to fit in with the group (Dixie Skydivers) really well," Burriss commented.
Dr. Leo Gaddis, a mechanical engineering professor who taught McCollum, emphasized that he was "a bright kid" and "never arrogant."  McCollum's hard work in Dr. Gaddis' class even earned him a recommendation for some part-time work with Gaddis' son Ben.  McCollum mainly did physical labor such as drilling holes in sheet rock while working with Ben Gaddis, but his diligence and kind spirit despite a somewhat menial job really impressed his employer.  "He churned out work like no one else we ever had," the younger Gaddis commented.
McCollum grew up in Irmo, S.C., before attending Clemson as a mechanical engineering major.  He graduated from the University with a degree in mechanical engineering in December 1996 and promptly received his commission from the Marines, with whom he had been training since 1993.
The plane crashed around 8:15 p.m. as it approached a Marine base in Shamsi, Pakistan, according to Major Chris Hughes, a spokesman for the Marine Corps.  While Pentagon officials do not believe enemy fire contributed to the crash, they have not yet ruled out that possibility.  The circumstances surrounding the wreck are currently under investigation.
McCollum leaves behind his wife of six months, who is pregnant with their first child.  The child is due on July 4, which creates the possibility that though it will never meet him, this child will have an easy way to remember that its father died honorably while serving his country.
Related Images Click to Enlarge
Extra Documents
The Global War on Terror – Vignette written by Kelly Durham for The Echo