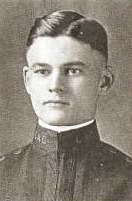 1917

Animal Husbandry

Cadet Captain; YMCA; Bible Leader; Assistant Editor Taps; Sanherin Club; President Marion Club; Commencement Marshal; President Calhoun Literary Society; Editor Agricultural Journal; Club Football

Marion, South Carolina

Army, Second Lieutenant

Company F, 16th Infantry Regiment, 1st Infantry Brigade, 1st Infantry Division

Awarded the Distinguished Service Cross - Posthumous Awarded for actions during the World War I.

Jul 1, 1896

Sep 13, 1918

Died of wounds received in action at Soissons, France

Buried at St. Mihiel American Cemetery, Thiaucourt, France; Memorial marker at Old Town Cemetery, Marion, SC

SW
Personal Remembrances
Volunteered at the start of the war while a Clemson College student.
Additional Information
The President of the United States of America, authorized by Act of Congress, July 9, 1918, takes pride in presenting the Distinguished Service Cross (Posthumously) to Second Lieutenant (Infantry) David E. Monroe, United States Army, for extraordinary heroism in action while serving with 16th Infantry Regiment, 1st Division, A.E.F., south of Soissons, France, 19 July 1918.  His platoon having been halted by machine-gun fire, Lieutenant Monroe advanced alone against the nest and captured the gun and crew.  Although wounded in this encounter, he returned to his platoon and led them on to its objective.  His gallant conduct had a marked effect upon his men.
General Orders: War Department, General Orders No. 35 (1920)
Related Images Click to Enlarge
Extra Documents
Vignette in The Echo written by Kelly Durham – A War Against All Nations