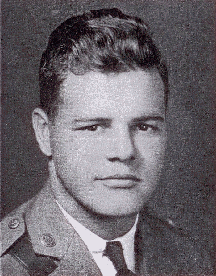 1936

Textile Engineering

Cadet Sergeant, Second Lieutenant; Chairman Planing Commission; Central Dance Association 4; Alpha Chi Psi 1,2 3,4; President 4; ROTC Camp McClellan Alabama; Tiger Brotherhood

Clemson, South Carolina

Mother - Mrs. D. H. Henry, Sr.

Army, First Lieutenant

22nd Infantry Regiment, 4th Infantry Division

Bronze Star Medal, Purple Heart, Combat Infantryman Badge

Jul 22, 1915

Jul 11, 1944

Killed in Action - France

Normandy American Cemetery, Plot D, Row 7, Grave 37. Memorial marker at Old Stone Church Cemetery, Pendleton, SC

SE
Personal Remembrances
The following is based on a conversation with Albert M. Henry (David's younger brother) and various newspaper articles:
David had a very outgoing personality and was well liked.  He was an outstanding athlete in many sports.  He and his friend, Carl McHugh, enjoyed playing at Boscobel Golf Course.  He was actively involved in student activities at Clemson and graduated in Textile Engineering in 1936 and received an ROTC Commission.  He worked for Union Bleachery in Greenville before being called into service in January 1942.  He was in the Infantry and went overseas in January 1943.  He participated in the invasion at Normandy, France June 6, 1944.  He was promoted to Captain shortly before his death on July 11, 1944.
David's other brother Rufus, who also attended Clemson, was a Flight Engineer on a B-29 and was killed in action in China.
Albert Henry, the youngest brother, also served in WW II (1943 -46).  He was being deployed overseas when he received notification of Rufus' death.  Deployment orders were rescinded because the Henry Family had already lost two sons in the war.  Albert remained in the States for the duration of his service.  At the time of this interview he resided in Clemson, SC.
Additional Information
Related Images Click to Enlarge
Extra Documents
Vignette in The Echo written by Kelly Durham – Six Years, Four Months