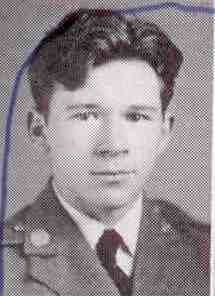 1944

Mechanical Engineering

Anderson, SC

Army Air Force, First Lieutenant

361 Fighter Squadron, 356 Fighter Group

Distinguished Flying Cross with Oak Leaf Cluster, Air Medal with 3 Oak Leaf Clusters, Purple Heart

Jan 27, 1923

Jun 8, 1944

Two wingmen reported they were strafing a German armored convoy east of Montdidier, France. This was their fifth mission of the day, four days after D-Day. Lt. Lee's P-47 Thunderbolt was observed climbing in flames. It stalled and crashed.

Ardennes American Military Cemetery, Neupre (Neuville-en-Condroz), Belgium; Plot D, Row 5, Grave 21

SW
Additional Information
MACRE  #5590  Date: 8 June 1944  Location: AAF Station F-369  Group: 356
th
 Fighter  Squadron: 361
st
 Fitr.  Rank: 1
st
 Lt.  Type of Aircraft: P47-D20  Aircraft Serial Number: 42-76422  Type of Mission: Dive Bombing 
On June 8th, 1944, the aircraft piloted by 1st Lt. Edward Lee was shot down over Montdidier, France.  1st Lt. Lee's aircraft was seen falling down in flames.  Lee was the only person onboard the aircraft.
Copied from Americam Battle Monument Commission Website

Edward P. Lee, Jr.
First Lieutenant, U.S. Army Air Forces Service # O-812449 361st Fighter Squadron, 356th Fighter Group</H3< td>
Entered the Service from: Mississippi
Died: 8-Jun-44
Buried at: Plot D Row 5 Grave 21
Ardennes American Cemetery
Neupre, Belgium
Related Images Click to Enlarge