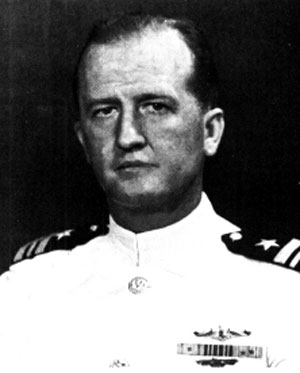 1937

Architecture

Charlotte, North Carolina

Mary Herndon Davis Holt, married Nov 20, 1943

Navy, Lieutenant Commander

Commander USS Bullhead, 7th Fleet

Purple Heart, American Service Medal, Asiatic-Pacific Area Campaign Medal with 3 Bronze Stars, Philippine Liberation Ribbon with Bronze Star, Navy Cross, Submarine combat insignia, World War II Victory Medal

Jul 6, 1915

Aug 23, 1946

Killed in Action - Commander of submarine USS Bullhead in Lombok Strait, Java Sea that failed to return on schedule

Memorialized at Manila American Cemetery, Manila Philippines.

SE
Additional Information
Said to have been the youngest submarine Commander in the Navy.  Made 11 war patrols on submarines.  Memorial service at Norfolk NAS on Oct 27, 1946 and flowers strewn at sea.  Memorial service at Myers Park Baptist Church Sept. 15, 1946.  US Naval Academy, graduate 1939
Memorialized – Manila American Cemetery, Manila Philippines.
USS Bullhead (SS-332), a Balao-class submarine, was the very last US Navy ship sunk by enemy action during World War Two, probably on the same day that the first atomic bomb was dropped on Hiroshima.  Bullhead served in the Pacific Ocean theater of World War II.  The war operations of Bullhead extended from 21 March to August 1945 during which time she completed two war patrols.  Her area of operations included the Java Sea and South China Sea and the Gulf of Siam.
During the greater portion of her first war patrol Bullhead performed lifeguard services and on two occasions bombarded Pratas Island, China, damaging enemy radio installations.  She also rescued three airmen from a downed B-29 Superfortress following an air strike on the China coast.  On her second patrol, in May and June 1945 in the Gulf of Siam and the South China Sea, Bullhead sank two small freighters, a schooner and a sub chaser totaling 1800 tons and damaged two more sub chasers and another small freighter, all in gun actions.
On 31 July 1945 Bullhead left Fremantle to commence her third war patrol.  Her orders were to patrol in a wolf pack with Capitaine (SS-336) and Puffer (SS-268) in the Java Sea until 5 September and then head for Subic Bay in the Philippines.  Bullhead reported on 6 August that she had passed through Lombok Strait.  That was the last word received from Bullhead.  On 12 August, Capitaine, planning to arrive on 13 August, ordered Bullhead to take position the following day in a scouting line with Capitaine and Puffer.  Receiving no reply, Capitaine reported on 15 August, "Have been unable to contact Bullhead by any means since arriving in area."
Since the British submarines HMS Taciturn and Thorough, were in the same general area as Bullhead, and Cod (SS-224) and Chub (SS-329) passed through in transit at various times, it is difficult to determine precisely which of the many Japanese anti-submarine attacks was the one that sank Bullhead.  However, one occurred on 6 August 1945, when a Japanese Army plane attacked with depth charges.  It claimed two direct hits, and for ten minutes thereafter, there was a great amount of gushing oil and air bubbles rising in the water.  Since the position given is very near the Bali coast, it is presumed that the proximity of mountain peaks shortened Bullhead's radar range and prevented her receiving a warning of the plane's approach.
Extract from: https://en.wikipedia.org/wiki/USS_Bullhead_(SS-332)
Related Images Click to Enlarge
Extra Documents
Vignette in The Echo written by Kelly Durham – Holt, Clemson Alumnus, Annapolis Graduate, On Eternal Patrol