Francis Herbert Scarborough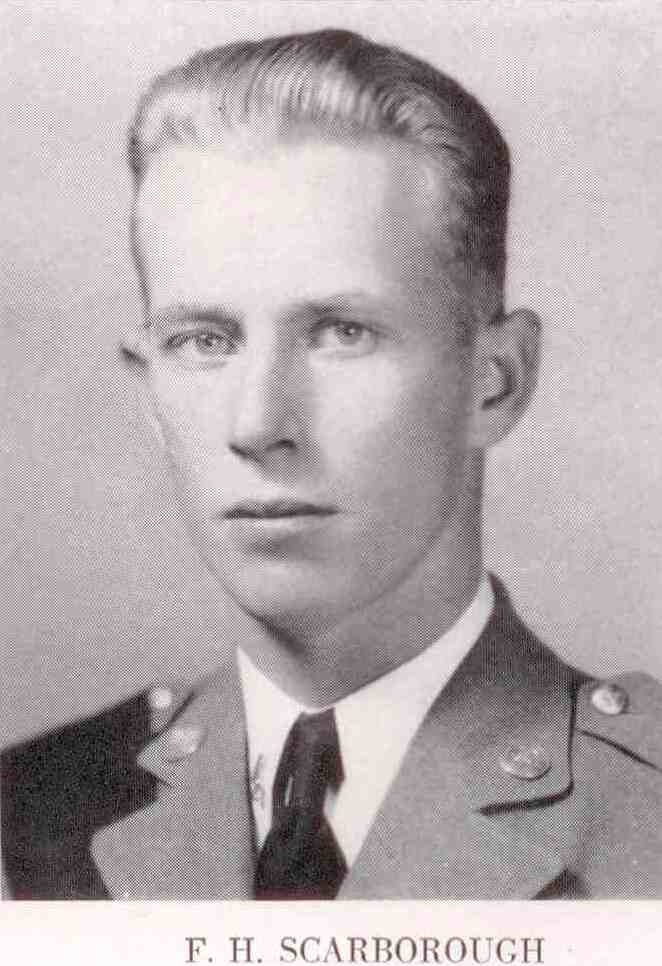 1939

Agricultural Engineering

Palmetto Literary Society; American Society of Agricultural Engineers

Bishopville, South Carolina

Parents: Mr. and Mrs. Josiah L. Scarborough

Army Air Force, Captain

57th Infantry Regiment (Philippine Scouts), Philippine Division, 2nd Observation Squadron, 27th Bomb Group, (L)

Silver Star, Purple Heart, Prisoner of War Medal, American Defense Service Medal with Foreign Service Clasp, American Campaign Medal, Asiatic-Pacific Campaign Medal with 2 Bronze Service Stars, World War II Victory Medal, Philippine Defense Medal with Bronze Service Star

Dec 18, 1917

Jan 27, 1945

KIA - Died aboard the Japanese POW transport ship Brazil Maru between Formosa (Taiwan) and Japan.

Buried at Sea - Memorialized at Manila American Cemetery, Fort Bonifacio, Manila, Philippines. Also memorialized at Saint Luke Cemetery, Bishopville, SC

SW
Personal Remembrances
Herbert Scarborough was born in Mount Clio on December 18, 1917, a son of Josiah L. and Minnie M. Scarborough.  He attended Elliott High School in Lee County and entered Clemson in 1935.  At Clemson, he participated in the Palmetto Literary Society and the American Society of Agricultural Engineers, and graduated in 1939 with a BS degree in Agricultural Engineering.
1Herbert entered into active duty with the US Army at Fort Jackson, SC on September 9, 1940.  After brief training, he was sent to Fort Vancouver, WA and departed San Francisco on January 24, 1941 aboard the USAT Grant.  He arrived at Manila on February 20 and was assigned to the 57th Infantry Regiment of the Philippine Division at Fort McKinley.  During 1941 he transferred to the Army Air Force, was trained as an Aerial Observer at Nichols Field, and after graduation on December 1, was assigned to the 2nd Observation Squadron, 27th Bomb Group (L), which was equipped with O-46a observation aircraft.  When the Japanese captured Nichols Field in December of 1941,  he relocated to Bataan, served there with the Infantry, and was among the American troops on Corregidor when it was captured by the Japanese on May 6, 1942.
In June of 1942 Lieutenant Scarborough and the other Corregidor POWs  arrived at Prison Camp #1, Carbanatuan, about 66 miles north of Manila.  They were there for four tortuous months during which many died of starvation or dysentery.  On October 26, 1942 those still living were herded into a train, arriving in Manila two hours later.  On the 28th  they boarded the transport ship Erie Maru and arrived  at Davao on Mindanao on November 5th.   For nineteen grueling months they performed slave labor in the penal colony at Davao.  On June 6, 1944 they were herded aboard the Yasha Maru for a return trip to Manila and Bilibid Prison, arriving in mid-October, 1944.  On December 13, 1944 he and other POWs boarded the prison ship Oryoku Maru, which was sunk two days later in Subic Bay by Navy planes from the USS Hornet.  Hundreds of POWs were killed in the attack, but Lieutenant Scarborough was among the survivors who were held on a tennis court at the nearby Olangapo Naval Base.  On December 25 they were placed aboard a train bound for San Fernando La Union in northern Luzon, where they were loaded onto the Enoura Maru on the 27th.  They reached what is now Taiwan on January 1, 1945.  On the 9th this ship was bombed in the harbor at Taiwan.  Survivors were crowded aboard the Brazil Maru, which quickly set sail for Japan.  On January 27, 1945 in the hold of the ship, Herbert finally succumbed to the extreme rigors of his years as a POW and was buried at sea.
Additional Information
Captain Francis Herbert Scarborough is memorialized on a monument in the Manila American Cemetery at Fort Bonifacio in Manila.  For his courage and sacrifice he was posthumously awarded a Silver Star, the Purple Heart, the Prisoner of War Medal and the WWII Victory Medal.  He has earned the gratitude of all Americans.
He was never married.
1 The author thanks Bruce Moore of Raleigh, NC for much of the information about Herbert's ordeal as a POW 
Biography written by James O, Sweeny, Clemson College Class of 1939.
Related Images Click to Enlarge