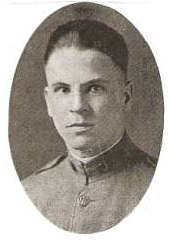 1923

Mechanical Engineering

Vice President Freshman Class; Vice President Sophomore Class; President Senior Class; President Block "C" Club; Vice President Y.M.C.A.; Varsity Football '21, '22; Captain Track Team; Member Athletic Council; Secretary and Treasurer A.S.M.E.; Private, Corporal, Sergeant Major, Captain; Played fullback for the Clemson Tigers football team.

Denmark, SC

He was survived by his wife, Mildred Van Ausdel Zeigler; a son, Michael; and a step-daughter, Miss Jackie Moss; four brothers and four sisters.

Army Air Force, Colonel

Executive Officer, Warner Robins Army Air Depot, Georgia

Jul 18, 1902

Dec 9, 1942

Died Non Battle; Died at age 39 in an aircraft crash near Macon, Georgia

Buried at Arlington National Cemetery, Arlington, Virginia; Section 8, Site 5131; Memorial marker in Denmark Cemetery, Denmark, SC

SE
Additional Information
Accident Report –  43-12-2-2
Aircraft Model: A 20B SN- 41-2975 Organization: Location: Robins Field, Warner Robins, Georgia Place of Departure: Robins Field Intended destination: Local Type of Mission: Transition Training Date: December 2, 1942; Time: 1550 EWT Location of Crash: Robins Field Reason aircraft was lost: Take off accident Number of Persons aboard aircraft; Crew: 2 Passengers: 0 Total: 2   List of Crew:
Col. Francis M. Zeigler, Pilot-fatal
Crew Chief Arvil G. Copeland, Co-Pilot-fatal
Narrative of eyewitness statements: 
The pilot took off into the west making what appeared to be a normal take-off using a little more than half of the 5,000 ft. runway.
The plane upon reaching an altitude of approximately 20 to 30 feet leveled off then nosed down into a flat dive.  Continuing in its dive, the plane struck the shoulder of a road located about 150 feet from the end of the runway.  The impact of this caused the landing gear and the streamlined faring of the right engine nacelle to be torn away from the airplane.
The force of this impact caused the plane to bounce into the air again and it continued straight ahead climbing to approximately 200 feet above the ground.  The pilot then made a wide turn to the left when it was noticed that the airplane was flying in an extremely tail low position and gradually losing altitude.
Unable to maintain altitude the pilot made an attempted landing in a small field about two miles southwest of the runway, the plane struck the ground on its belly and flipped over on its back causing total damage.
Related Images Click to Enlarge