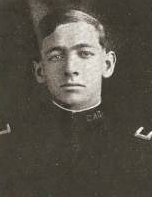 1914

Chemistry

Dancing Club; Tennis Club; Chemical Club

Trenton, South Carolina

Army Air Service, Private First Class

Pilot training at Rich Field, Texas

Jul 2, 1893

Sep 12, 1918

Killed in a plane accident at Rich Field Texas while in pilot training a few weeks before receiving a commission.

Buried in Trenton South Carolina.

SE
Additional Information
Telegram: Richfield Waco Tex 637P Sept 12 1918, Director Military Aeronautics
Training flying Washn eight hundred seventy three period cadet Frank John Oliver was killed at six ten PM in airplane number fifty two twenty eight period cadet Frank Pierce Salter is seriously injured at six ten PM in airplane fifty one sixty two period                    -Whiteside 747P
218 DA ?S 114 GOVT _Richfield Waco Tex 810 P Sept 12 1918
Director Military Aeronautics Training Flying Washn
Eight hundred seventy six period a flying cadet Frank Pierce Salter Jr. private first class air service unassigned B none B six ten PM September twelfth nineteen eighteen D Curtiss JN four D fifty one sixty two E Death F none G complete wreck H three hundred feet I collision in air J nine hours forty two minutes on standard comma fourteen hours thirty five hours dual ten hours two minutes solo K yes twenty four hours thirty seven minutes L May seventh nineteen eighteen M solo spiraling for mark N apparently avoidable O ideal comma breeze from north five miles an hour P none.                   – Deuel 941P
PROCEEDING OF BOARD OF OFFICERS.       SEPT. 13, 1918
CADET F.P. SALTER—– AIRPLANE NO. 5162
CADET F.J. OLIVER—– AIRPLANE NO. 5228
Findings. – That above named cadets had permission and authority to take flight in airplanes indicated; that they met death from injuries received in airplane accident Sept. 12, 1918; that one Cadet was spiraling to the left and one Cadet to the right; that on account of the blind angles these Cadets did not see each other until too late; that Cadet Oliver was spiraling to the right in disobedience to instructions; but that it was impossible to determine if disobedience was willful or due to some necessity.
He was employed as Chief Chemist, Buckeye Cotton Oil Company
Related Images Click to Enlarge
Extra Documents
A New Kind of War – Vignette Written by Kelly Durham for The Echo