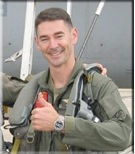 1990

Spartanburg, South Carolina

Marine Corps, Major

VMFA_134, 3rd Marine Wing

Dec 8, 1967

Jul 21, 2004

Mid-air collision with another F/A 18B over the Columbia River near Portland, OR.

Rosecrans National Cemetery

SW
Personal Remembrances
Click to watch video:
www.youtube.com/watch?v=h8iNPqcUwuA
"I was just talking to an old Marine Corps buddy and I got to wondering how other friends from my days in the Corps were doing.  I did search on Gary and was shocked and saddened to read about his death.
Gary was my roommate at the Basic School.  He was a great friend and motivator.  I was introduced to his family during our training in Quantico when he and I took a trip to Spartanburg.  His father and brother (I don't remember which brother) made sure we felt at home when we were awoken with a live rendition of Revelry.  I regret losing touch with Gary over the many years and feel for his family.
I last saw Gary at Camp Pendleton when he came to visit his friend Rich Merritt, then serving at 3d LAAD Battalion.  He was now an official aviator in the United States Marine Corp.  I'm glad he was able to fulfill his dream.  You couldn't help but feel good for him and I knew the Marine Corps got a good man to fly fighters for them.
God bless and Semper Fidelis Gary. Thank you for being a friend."
Patrick Gallagher
Captain, USMC
August 27, 2008 2:37 PM
Additional Information
"21 July – Two United States Marine Corps F/A-18 Hornets of VMFA-134, 3rd Marine Air Wing, based at MCAS Miramar, California, suffer mid-air collision over the Columbia River, 120 miles E of Portland, Oregon, shortly after 1430 hrs., killing Marine Reservists Maj. Gary R. Fullerton, 36, of Spartanburg, South Carolina, and Capt. Jeffrey L. Ross, 36, of Old Hickory, Tennessee in F/A-18B, BuNo 162870, 'MF-00', coming down in the river.  Maj. Craig Barden, 38, ejects from F/A-18A, BuNo 163097, 'MF-04', landing nearby on a hillside West of Arlington, Oregon, and is taken to Mid-Columbia Medical Center in The Dalles, suffering minor injuries.  All three crew eject but only two parachutes open.  The fighters were on their way to the Boardman Air Force Range, where the Oregon Air National Guard trains, when they collided, said one spokesman.  Another spokesman told the Associated Press that the planes were on a low-altitude training exercise."
Extract from: https://en.wikipedia.org/wiki/List_of_accidents_and_incidents_involving_military_aircraft_(2000%E2%80%93present)
Clemson University Foundation, Major Gary R. Fullerton, Grant-in-aid: 
Established by family and friends with a pledge of $25,000 in memory of Major Gary R. Fullerton, Class of 1990.  Subsequent gifts may be added to the fund.
The endowment income, governed through Clemson University Foundation policies and procedures, will provide Grants-in-Aid to Clemson University students who participate in the Marine Corp Platoon Leaders Class.  Eligible participants of the Marine Corps Platoon Leaders Class will be identified each year by the Marine Corps Officer, Selection Officer, stationed in Columbia.
Related Images Click to Enlarge
Extra Documents
Death in a Blink – Vignette written by Kelly Durham for The Echo