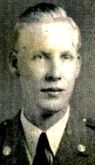 1943

Mechanical Engineering

Florence, South Carolina

Married to Bessie Agnes Wilson Mims; one son, George Roland Mims III

Army Air Force, 2nd Lieutenant

38th Bomb Group, 405th Bomb Sq.

Purple Heart

Sep 18, 1921

Dec 30, 1944

Lieutenant Mims served as a pilot and navigator in World War II for the 38th Bomb Group, 405th Bomb Squadron. He was killed in action over Borneo on December 30th, 1944. Lieutenant Mims was onboard a B-25 aircraft along with 5 other members as they departed from Pitoe Strip, Moratai.

SE
Additional Information
Crewmen listed onboard aircraft No. hh-28820:
Pilot- 2nd Lt. Drumm, Howard J. (0-815669) CoPilot- 2nd Lt. Hankins, Lawrence R. (0-715202)
Navigator- 2nd Lt. Mims, George R. Jr. (0-685686)

Rad Gunner- T/Sgt Stevens, Albert E. (38070562) Eng Gunner S/Sgt Dubke, Carl E. (3293061) Arm Gunner S/Sgt Somers, Ralph C. (13083893)  
A Missing Air Crew Report from the War Department claims that the aircraft was believed to have crashed over its target around 1217.  The report initially stated that it was possible that the crew may still be alive but later statements suggested the contrary.
The following remarks were listed in the report:
"Last seen at Tarakan Airdrome, Borneo; Airplane was last observed when approaching the target to pass directly over two (2) black bursts which appeared to be heavy Ack-Ack.  Airplane appeared to drop in cleared area behind some trees and a column of black smoke was observed rising from that area."
The following remarks were listed in addition to the initial Missing Air Crew Report:
"I last saw Lieutenant Drumm's Airplane dropping in a cleared area behind some trees afer a burst of Ack-Ack exploded by his plane.  I saw a column of black smoke rising from that vicinity, but was unable to observe anything further."       -Lt. Harry E. Bradley
A Memorandum for the Officer in Charge provided the following description for the crash of B-25 #428:
"Acting on instructions of the commanding Officer of this Detachment this Agent on 2 July 1945 visited the scene of a crashed B025 to determine its identity, if possible, and to determine the whereabouts of crew members.
Two native Informants, Woe Los and Wong Kim Chu, stated that the plane crashed about the middle of February 1945 on Tarakan Hill feature.  Natives immediately approached the scene of the crash and observed that all crewmembers were dead.
Japanese troops then arrived on the scene and dispersed the crowd and declared the area out of bounds.  Informants watchd the Japs dig a grave, gather the airmen and bury them that same day.  The Japs later staked the outline of the grave and erected a cross at the head of the grave.
Wreckage was scattered over a wide area and the plane was badly broken up due to having struck a large tree on the way down."
-S/Agent OIC
Certificate of service-
https://www.wwiimemorial.com/registry/wardept/pframe.asp?HonoreeID=1276392&popcount=2&tcount=3
Related Images Click to Enlarge
Extra Documents
Vignette in The Echo written by Kelly Durham – Mims Answered the Call, Made the Sacrifice