Hampton Nathaniel Dent, Jr.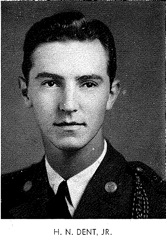 1941

Agricultural Engineering

Cadet Captain, Executive Officer, Third Battalion, Second Regiment; Cheerleader, A. S. A. E.; Sigma Epsilon; Tri-County Club; Pershing Rifles, YMCA Council, Senior Platoon.

St. Matthews, South Carolina           

He was survived by his wife, the former Doris Wanda Newell, and a daughter, Brenda Joy Dent

Army Air Force, First Lieutenant

Troop Carrier Unit—towed gliders and carried paratroopers to Sicily.

Purple Heart, Air Medal

Jul 12, 1919

Oct 24, 1943

KIA - His glider was shot down as he was delivering troups.

West End Cemetery in St. Matthews, South Carolina

SE
Additional Information
Hampton Nathaniel Dent, Jr. was born in St. Matthews, South Carolina on July 12, 1919.  He was the first of five sons of Mr. and Mrs. Hampton N Dent, Sr.  He graduated from St. Matthews High School in 1937, and then from Clemson College in 1941.  Being active in the ROTC unit there, he was commissioned a 2nd Lieutenant in the Infantry as he graduated.
He married Doris Wanda Newell in October, 1941.  They soon had a daughter.
After a short while, he transferred to the Air Corps at Camp Croft, South Carolina and was selected to the Aviation Cadet Program.  He received flying training (basic) at Bennettsville, South Carolina and advanced flight training at Shaw Field, South Carolina and Moody Field, Georgia.  He graduated and was awarded wings in May of 1942.  He was sent to further training at Florence AAFB, South Carolina and Battle Creek, Michigan.
In September 1943, he went overseas.  He was assigned to a troop carrier unit that towed gliders and dropped paratroopers.  He participated in the invasions of Sicily and Italy.
He was reported as killed in a plane crash in Sicily on October 24, 1943 by the War Department.  His body was returned to the U.S. and is buried in West End Cemetery in St. Matthews, South Carolina.
Copied from: https://airforce.togetherweserved.com/usaf/servlet/tws.webapp.WebApp?cmd=ShadowBoxProfile&type=Person&ID=157693
Related Images Click to Enlarge
Extra Documents
Vignette in The Echo written by Kelly Durham – First Son