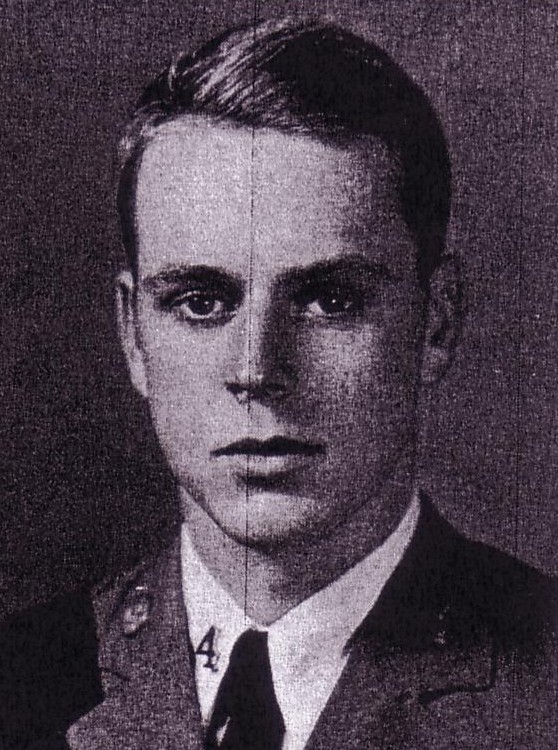 1937

Textile Engineering

Private; Corporal; Supply Sergeant; First Lieutenant; Company Executive; Blue Key; Phi Psi, 2, 3, 4, Secretary-Treasurer, 3, Vice- President, 4; President Central Dance Association; Alpha Chi Psi, 1, 2, 3, 4, Secretary-Treasurer, 3, President, 4; Commencement Marshal; Senior Disciplinary Council; Honors, 2, 3; Historian Junior Class; Vice-President Senior Class; R.O.T.C. Camp, Fort McClellan, Alabama.

Greenwood and Aiken County, South Carolina

He was married to the former Melville Calmes of Greenville.

Army, Captain

92nd Infantry Regiment (PA), 91st Division (PA)

Mar 15, 1916

Feb 17, 1945

Died non-battle of pneumonia in a POW camp in Japan.

Captain Leitner's remains were returned to the United States after the war and buried in the Jefferson Barracks National Cemetery, St Louis, Missouri, Section 82, Site 1B-1D.

NW
Personal Remembrances
Extracts from a speech given by Col. "Ben" Skardon Class of 1938, in September 2005:
I was captured by units of the Japanese Army on April 10, 1942, on the southern end of the Bataan Peninsula.  I made the march northward from the vicinity of Mariveles to San Fernando, Pampanga – a distance of approximately 80 miles.  The march took eight or nine days and later became known as the Bataan Death March.
At my lowest point as a POW, I was a victim of beri-beri, malaria, and diarrhea.  I also developed an eye infection with yellow discharge which would seal my eyes shut.  I had no appetite, and I could hardly swallow.  Henry Leitner and Otis Morgan, Clemson classmates, took turns spoon-feeding me, cleaning my eyes, carrying me piggy-back to an open latrine – washing me – and carrying me back to our NIPA shack.
Most of our personal possessions had disappeared.  However, I had managed to keep my Clemson class ring hidden.  Otis, who worked on the FARM as an "in-charge" (an American who understood enough Japanese to pass on the instructions to the POW work details), let it be known that he knew of a gold ring available for trade to the Japanese for food.  A deal was made and one evening Otis came in from the FARM with a small can of potted ham and a live pullet-sized chicken.  Henry borrowed a tin pail, built a fire, and boiled the chicken.  Nothing was left except the bones, which by that time were gleaming white.  They broke the bones and retrieved the marrow with a piece of wire.  Nothing edible remained.
The little can of potted ham was used to make highly-flavored rice balls.  My diarrhea dried up, and the yellow discharge from my eyes disappeared.  My appetite was restored.
My debt to Henry Leitner and Otis Morgan is heavy – it cannot be repaid.  Otis was killed aboard an unmarked ship carrying POW's to Japan.  Henry died in early 1945 at a POW camp in Japan.
Additional Information
Captain Henry Daniel Leitner '37 served with the 92nd Infantry Regiment, Philippine Army, 91st Division (PA) in the defense of Bataan and was captured when the American forces surrendered to the Japanese on 9 Apr 1942.  He endured the Bataan Death March and survived two years and eight months of imprisonment in POW camps at Camp O'Donnell and Cabanatuan on Luzon and Davao Penal Colony on Mindanao before being put aboard a transport ship on 13 Dec 1944 bound for a POW slave labor camp in Japan.
Captain Leitner survived the sinking of the unmarked POW transport ship Oryoku Maru in Subic Bay near Olongapo, Luzon on 15 Dec 1944 by aircraft from the American aircraft carrier USS Hornet.  The Oryoku Maru, with 1619 prisoners aboard, was transporting the POWs from Bilibid Prison in Manila to Formosa.  The survivors of this sinking were held on a tennis court on Olongapo Naval Base until 25 Dec 1944 when the 1300 plus then remaining survivors were transported by train to San Fernando on Lingayen Gulf.  They were placed aboard the unmarked POW transport ship Enoura Maru or the Brazil Maru on 27 Dec 1944 bound for Takao Harbor, Formosa.  Captain Leitner was transported from the Philippines to Formosa on the Enoura Maru.  Upon arrival in Takao Harbor, all of the POWs were consolidated aboard the Enoura Maru which was then bombed on 9 Jan 1945 by aircraft from the USS Hornet.  Captain Leitner survived that bombing and was among the remaining 930 POWs transported from Formosa to Japan aboard the Brazil Maru.  Upon docking in Moji, Japan on 30 Jan 1945, only 435 POWs had survived the trip from Manila to Japan.  Within 30 days of arriving in Japan only 264 of the original 1619 POWs were still alive.
Captain Leitner succumbed to pneumonia while in Fukuoka POW Camp #3, Yawata, Northern Kyushu, Japan on 17 Feb 45.  Captain Leitner's remains were returned to the US after the war and were buried in the Jefferson Barracks National Cemetery, St Louis, Missouri, Section 82, Site 1B-1D.
Related Images Click to Enlarge
Extra Documents
Cherished Chapter of Clemson History – Vignette written by Kelly Durham for The Echo