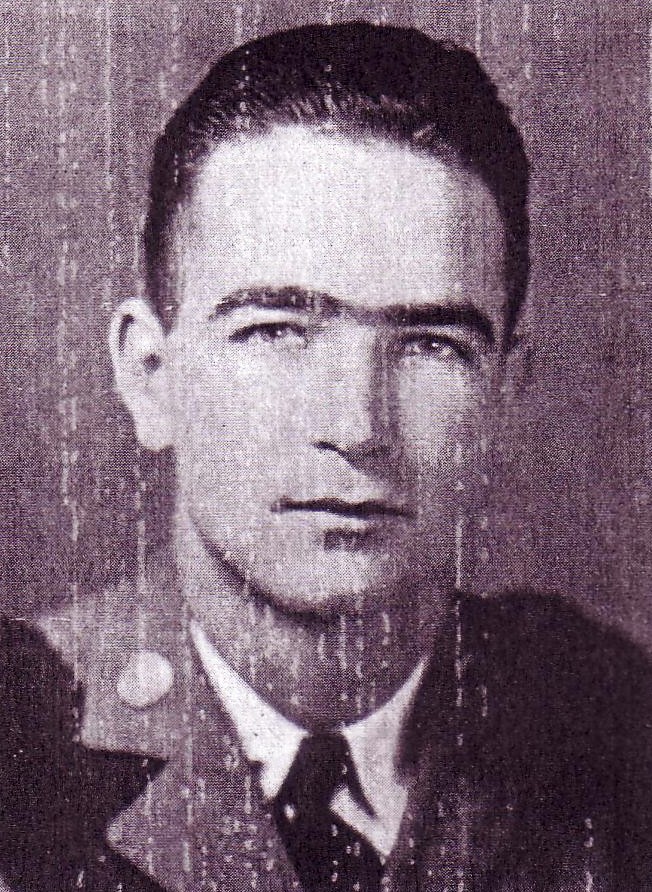 1938

Agricultural Economics

Lee County Club

Bishopville, South Carolina

Married, Louise Griffin Muldrow; One Daughter, Mary Virginia Muldrow Hash (deceased July 2001 in Gulfport, MS). SGT Muldrow's daughter was born while he was overseas, so he never had the privilege of meeting or knowing her.

Army Air Force, Sergeant

642nd Bomb Squadron, 409th Bomb Group

Purple Heart, Air Medal with 2 Oak Leaf Clusters, Good Conduct Medal, American Defense Service Medal with Foreign Service Clasp, American Campaign Medal, European-African-Middle Eastern Campaign Medal with 2 Bronze Service Stars, World War II Victory Medal

Jul 1, 1916

Feb 16, 1945

Killed in Action near Kamen, Germany

Ardennes American Military Cemetery, Neupre (Neuville-en-Condroz), Belgium, Plot A, Row 20, Grave 10. A memorial marker honoring Sgt Muldrow was placed by his family in the Bishopville United Methodist Church Cemetery in Bishopville, SC.

NW
Additional Information
MACR/Accident Report #: 12433
Aircraft Model: B-26; S/N#: 41-39256 Organization: Location – Couvran, France, Command or AAF/AF – 9th Air Force; Group – 409th Bomb Gp. (L); Squadron – 642nd Bomb Sq. (L); Place of Departure – Station A-70; Type of Mission – Combat Date: 16 February 1945 Time: 1229 Location of Crash – Northwest of Unna, Germany, Reason Aircraft was Lost: Enemy Anti-Aircraft Number of Persons Aboard Aircraft: Crew – 3 Passengers – 0 Total – 3  
List of Crew:
Pilot Wahl, William 2nd Lt. 0-686292 MIA Mech. Gunner Price, William N. Sgt. 33497646 MIA Arm Gunner Muldrow, Henry G. Sgt. 34027535 MIA Eye Witness Statement: APO 140, U.S. Army, 22 February 1945. On the 16th of February 1945 I was the Turret Gunner in a plane that flew in the second flight of the second box.  From the position that I was in, I saw Lt. Wahl's ship get a Flak hit one minute after Bombs Away.  He peeled off to the left with parts of his cowling flying off and his left engine smoking.  He had the ship under control but both engines were smoking when I last saw him going under a cloud layer about three minutes after being hit.  To the best of my knowledge no parachutes opened. Earl B. Smith, S/Sgt., 11040805, 642nd Bomb Sq. (L) 409th Bomb Gp. (L)   Sgt. U.S. Army (AF).  Born July 1, 1916.  Entered service Mar. 25, 1941 at Ft. Jackson, SC; Ft. Bragg, NC; Hondo Field Tex; Lowery Field, Ft. Myers, Fla; England; France.  Killed in action in Kamen, Germany, Feb. 16, 1945.  Clemson Col. Methodist.  Son of Mr. and Mrs. H. G. Muldrow, Sr. Bishopville S.C.  Husband of Mrs. Louise Griffin Muldrow, Bishopville, S.C.   Henry Green Muldrow was born on July 1, 1916, in Bishopville, South Carolina.  After completing high school, he attended Clemson College, graduating with the Class of 1938.  He then went into employment in the construction machinery operation field.  He enlisted in the Army Air Corps at Fort Jackson, South Carolina on March 26, 1941.  He was selected for aerial gunnery school, and sent to Hondo, Texas to complete training.  After this, he was assigned to an operational unit based at Lowery Field, Florida for continuing training and aerial gunnery practice.  Muldrow went overseas in March 1944, and was assigned to the 409th Bomb Group, a B-26 unit based in a forward operating area of France.  After arriving there, he was assigned as a crew member of a crew in the 642nd Bomb Squadron.  After flying approximately 15 combat missions, this crew was tasked as part of a raid on German war facilities on February 16, 1945.Over the target and approximately 1 minutes after the bomb load was dropped, Muldrow's aircraft was hit by flak.  According to observers elsewhere in the formation, it peeled off to the left, with parts of the engine cowling dropping off.  The left engine was smoking.  When last seen, both engines were ablaze and the aircraft disappeared beneath a cloud layer.  No parachutes were observed.  The aircraft crashed northeast of Unna, Germany.  All crew members were killed.  Evidently, the bodies were buried by the Germans and later recovered, as Sgt Muldrow now lies in the Ardennes American Cemetery in Belgium in Plot A, Row 20, Grave 10.
Copied from: https://airforce.togetherweserved.com/usaf/servlet/tws.webapp.WebApp?cmd=ShadowBoxProfile&type=Person&ID=160811
Related Images Click to Enlarge
Extra Documents
Light Bomber – Vignette written by Kelly Durham for The Echo