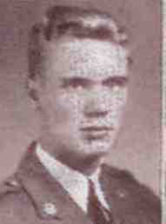 1944

English

Attended Clemson Sept 1940 - June 1941

Charleston, South Carolina

Navy, Seaman 2nd Class

Navy Destroyer USS DeHaven  (DD469)

1922

Feb 2, 1943

Killed in Action abroad the USS DeHaven near Guadalcanal Island in the Pacific

Memorialized at Manila American Cemetery and St Paul's Episcopal Church, Charleston

SW
Additional Information
The Fate of the USS DeHaven –
De Haven sailed from Norfolk, Va. and reached Tongatapu, Tonga Islands, 28 November 1942 to escort a convoy of troop ships to Guadalcanal to relieve the Marines who had been there since the invasion landings in August.  De Haven screened the transports off Guadalcanal from 7 to 14 December, then sailed out of Espiritu Santo and Nouméa in the continuing Solomon Islands operations.  She patrolled in the waters of the Southern Solomons to stop the "Tokyo Express," the nightly effort to supply the beleaguered Japanese troops still fighting on the invaded islands, and took part in two bombardments of Kolombangara Island during January 1943.
On 1 February 1943, De Haven screened six LCTs and a seaplane tender establishing a beachhead at Marovo on Guadalcanal.  While escorting two of the landing craft back to their base in the afternoon, De Haven was warned of an impending air attack by Japanese aircraft supporting Operation Ke.  She sighted nine unidentified planes and opened fire as six swung sharply toward her.  She shot down three of these planes, but not before all six had dropped their bombs.  De Haven was hit by three bombs and further  damaged by a near miss.  One bomb hit the superstructure squarely, killing the commanding officer instantly.  All way was lost after the first hit and the ship began to settle rapidly, sinking about 2 miles east of Savo Island.  One of the LCTs she had escorted rescued the survivors.  De Haven lost 167 killed and 38 wounded.
Copied From: https://en.wikipedia.org/wiki/USS_De_Haven_(DD-469)
War Casualty:
Report missing after the sinking of the destroyer DeHaven, Henry Hutchinson Cochran, son of Mr. and Mrs. Henry H. Cochran, of 201 Broad Street [Charleston, SC], was a Signalman, Second Class, and had been on duty on the DeHaven since the later part of August, 1942, before she was commissioned.  Young Cochran, who would have been 21 years old in April, entered the Navy on Feburary 28,1942.  He attended bootcamp in Norfolk and graduated from the Navy signal school at the University of Illinois.
He was well known as a athlete, having been a center on the Bantam football team.  His father, who is assistant postmaster here, said today that at home he had more than 14 ribbons and four medals for winning running and jumping contest at Moultrie playground.  He had won the nickname of "Runner" for himself.  He attended Crafts [elementary] School, the High School of Charleston and Clemson College.  He was a member of Grace  Episcopal Church.
The DeHaven was sunk by Japanese dive-bombers in the January 29 – February 4 battle in the Solomon Islands.  She was one of America's newest destroyers and was commissioned only last September.  The loss of life aboard was reported comparatively small, as the vessel went down on the afternoon of February 1, within easy rescue distance of Guadalcanal Island.
Mr. Cochran received a wire from the Navy Department on the night of Friday, February 19, telling him that his son was missing.  Mr. Cochran is holding out some faint hope for his son and for hearing more of him.  He said that " If he is given half a chance he will get in."
The Charleston Evening Post February 22, 1943
Related Images Click to Enlarge
Extra Documents
Vignette in The Echo by Kelly Durham – Too Young to Drink, Too Young to Vote, Old Enough to Serve