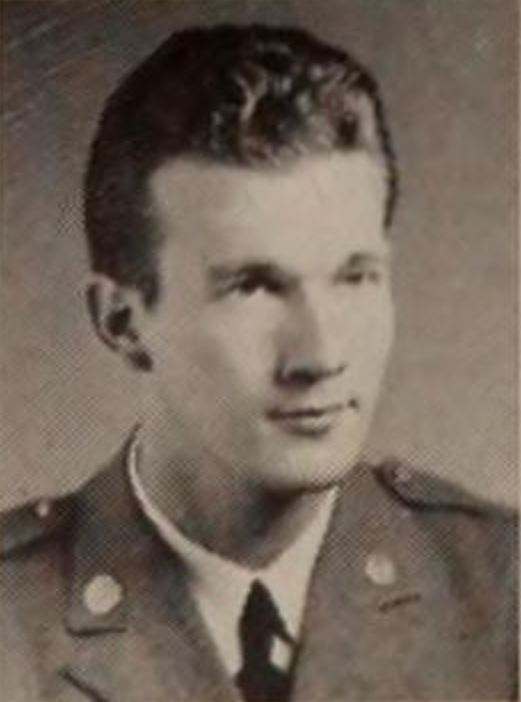 1944

English

Florence, South Carolina

Wife - Frances Smith

Army Air Force, First Lieutenant

342nd Bomb Squadron, 97th Bomb Group

Purple Heart

Jan 12, 1920

Jan 11, 1944

Killed in Action in a flight over Greece

Jefferson Barracks National Cemetery

SE
Personal Remembrances
The following is taken from his memorial on Findagrave.com.
Herbert served as a First Lieutenant & Pilot on B-17F #42-29918, 342nd Bomber Squadron, 97th Bomber Group, U.S. Army Air Force during World War II.
He resided in Florence County, South Carolina prior to the war.
He enlisted in the Army on May 5, 1941, prior to the war, in Charleston, South Carolina.  He was noted, at the time of his enlistment, as being employed as a Actor and also as Single, without dependents.
He married Miss Frances Smith sometime after his enlistment.
Herbert was promoted to the rank of First Lieutenant on September 23, 1943.
On January 11, 1944, bombers from the 15th Air Force based in Cerignola, Italy, were dispatched to strike harbor installations at Piraeus, Greece.
Approaching the target area, they encountered adverse weather and extreme wind and icing conditions.
Herbert's B-17 & also B-17 #42-3251, with ice forming on their wings and due to cloud cover having lost their formation, decided to return to base.  Instead of making a 180-degree right turn, away from the formations, the aircrafts made a turn to the left and flew head-on into the 301st Bomber Group formation which was also on the same mission.
Herbert was Killed In Action when his B-17 collided with B-17F #42-31396 of the 301st Bomber Group near Agrambela, Greece during the war.
B-17 #42-3251, which had turned back with Herbert's B-17, collided into B-17 #42-30357 which was also part of the 301st Bomber Group causing them both to also crash.
( see below )
All four of the B-17's were lost in this crash.
Herbert was awarded the Air Medal & Purple Heart.
He was originally interred overseas and his remains were later repatriated here on January 13, 1950.
Service # O-726206
The reason he is named on a group headstone is because when soldier's were killed in close proximity to each other they were unable, at that time, to identify them separately and interred their remains together in one grave.
His brother, Sgt Benjamin R. Easterling, Jr., was also Killed In Action during the war.
( Bio by: Shane O. & Russell S. "Russ" Pickett )
Lt. Easterling's body is interred at Jefferson Barracks National Cemetery in Lemay, Missouri.
Son of Benjamin Rogers and Bessie Aline Sherrill Easterling, husband of Frances Smith.
Article in The State newspaper:
LT. EASTERLING IS MISSING IN ACTION
Florence  - News that Lieut. Herbert G. Easterling has been reported missing since January 11 over Greece has been received by relatives here from the war department.
The telegram was sent to B. R. Easterling, father of the flyer, with the statement that further details would be given as soon as available.
Lieutenant Easterling was a pilot of a B-17 and had been overseas since December, 1942. In August, 1942, he was married to Miss Frances Smith, daughter of Mr. and Mrs. C. Ray Smith of this city.
Published in The State, February 4, 1944
Additional Information
MACR #: 2027
Location: Cerignola, Italy
Intended Destination: Piraeus Decks, Greece
Type of Mission: Aerial Bomb Mission
Date: 11 Jan 1944
Aircraft Type/Model: B-17F
AAF Serial Number: 42-29918
Aircraft was lost as a result of "prop wash," which occurred when the aircraft entered some turbulent clouds.
List of Crew:
Pilot                        Easterling, Herbert G.  1st Lt.       KIA
Co-Pilot                     Rader, Daniel L.             1st Lt.       KIA
Nvgtr.                        Slusher, John D.           1st Lt.       KIA
Bombardier                Buck, Melburn G.           2nd Lt.       KIA
Radio Operator           Buford, Robert H.          T/Sgt.       KIA
Aerial Engineer           Smith, Ray L., Jr.           S/Sgt.       KIA
R.W. Gunner              McClain, William F.         Sgt.           KIA
L.W. Gunner               Ashcraft, Alvie A.          S/Sgt.        KIA
Ball Turret Gunner      Vick, Theodore H.          S/Sgt.
Tail Gunner               McClung, Harold R.         S/Sgt.        KIA
Photographer            Butler, Robert M.           S/Sgt.        KIA
** Theodore Vick's status is unreadable**
Related Images Click to Enlarge
Extra Documents
January Sacrifices – Vignette written by Kelly Durham for The Echo