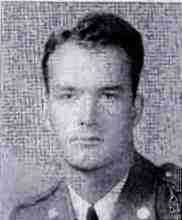 1944

Mechanical Engineering

Staff Sergeant's Club, Glee Club, Alpha Chi Psi, Pershing Rifles (Regimental Staff), Tiger Brotherhood

Newport News, Virginia

Wife: Mrs. Jane Copeland

Army Air Force, Second Lieutenant

Feb 25, 1919

Feb 6, 1945

Death Non-Battle: Second Lt. Copeland was involved in the crash as the pilot of a B-24 aircraft, No. 44-50371, at 2:20 a.m. on February 6, 1945.  The accident took place near the 1389th AAF Base on the island of Bermuda.

East Coast Memorial, Tablets of the Missing; Greenlawn Memorial, Spartanburg
Additional Information
Personel involved in the accident were as follows:
2nd Lt. Copeland, Howard C. (Pilot)
2nd Lt. Chaffee, WIlliam E. (Co-Pilot)
2nd Lt. Danielson, Russel D.
Cpl. Connelly, William A.
Cpl. Lynn, Joseph P.
Cpl. Jones, George Jr.
Cpl. Wright, Kenneth D.
Cpl. Minton, Hugh L.
Cpl. Clayton, William Jr.
According to a statment from 2nd Lt. Russel D. Danielson, Navigator:
"I was on the flight deck at the time of the take-off.  The ship was heavily loaded.  It seemed that the aircraft stalled out.  I think the pilot was trying to climb too fast.  I do not know how I got out because I was trapped with junk.  I took the pilot out with me and pulled his cord, I think the pilot was killed by the impact.  I went under water as my Mae West apparently was punctured on impact.  I heard a lot of screaming.  The engines sounded OK.  I tried to brace myself but there was too much loose stuff such as 'K' rations and spare parts."
Other: Memorialized at East Coast Memorial, New York, New York.
Related Images Click to Enlarge
Extra Documents
Marked for High Rank – Vignette written by Kelly Durham for The Echo