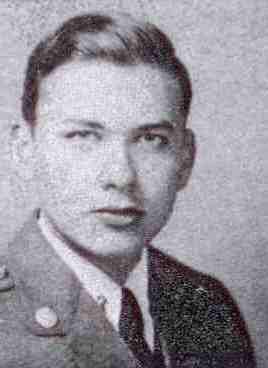 1944

Civil Engineering

Swainsboro, GA

Parents - Mr. and Mrs. Louis Rosenberg

Army, Private

359th Infantry Regiment, 90th Infantry Division

Purple Heart with Oak Leaf Cluster

Jun 17, 1923

Dec 5, 1944

Killed in Action

Lorraine American Military Cemetery, St. Avold, France ,Plot B, Row 29, Grave 11.

SE
Personal Remembrances
American Red Cross
Swainsboro, Georgia
Headquarters
559th Inf.APO 90,
New York, N.Y.
Dear Mrs. Tolve:
In reply to your letter of March 21, which has been forwarded to this Hdqs. requesting information relative to Pvt. Isaac Rosenberg Company B, 559th Inf. Regt., killed in action December 5, 1944, the following information is available.
Before crossing the Saar River, the company was located in the vicinity of Fremersdorf, Germany.  The area occupied by the company was completely dominated by enemy observation and shelled constantly.  Due to the swollen condition of the river at the time and heavy enemy action the company was forced to remain in this defensive position for many days.  The intense enemy artillery fire caused many casualties.  It was during this action, that a shell exploded close to the foxhole Isaac occupied.  A piece of shrapnel penetrated his neck, causing his death instantly.
He was buried in a United Stated Military Cemetery at Limey, France, with a chaplain of the Hebrew faith officiating.  His grave No. 68, Row 3, Plot "S", is marked with the "Star of David". He lies among many of him comrades, with whom he fought and died so bravely.
Sincerely yours,
S. L. Skow
Capt. 380th Inf.
Additional Information
The 90th Division then raced across France, through Verdun, 6 September, to participate in the siege of Metz, 14 September-19 November, capturing Maizieres-les-Metz, 30 October and crossing the Moselle River at Koenigsmacker, 9 November.  Elements of the 90th Infantry assaulted and captured the German-held Fort de Koenigsmacker 9-12 November.
On 6 December 1944, the division pushed across the Saar River and established a bridgehead north of Saarlautern (present-day Saarlouis), 6-18 December, but with the outbreak of the Gerd von Rundstedt's (Army Group A) drive, the Battle of the Bulge,  withdrew to the west bank on 19 December, and went on the defensive until 5 January 1945, when it shifted to the scene of the Ardennes struggle.  It drove across the Saar River, near Oberhausen, 29 January, to establish and expand a bridgehead.  In February, the division smashed through Siegfried Line fortifications to the Prum River.
Extract from: https://en.widipedia.org/wiki/90th_Infantry_Division_(United_States)
Related Images Click to Enlarge