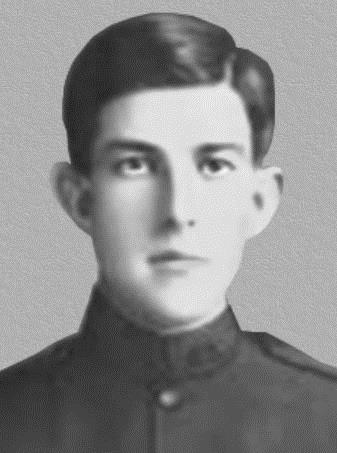 1912

Agriculture

Providence, SC

Army, Corporal

I Company, 118th Infantry Regt., 30th Division

Medal of Honor, Purple Heart, Victory Medal

Nov 2, 1890

Oct 12, 1918

Killed in Action while charging a machine gun nest.

Rembert Methodist Church Cemetery, Woodrow SC
Additional Information
Citation for the Medal of Honor
War Department, General Orders No. 13 (January 18, 1919)
The President of the United States of America, in the name of Congress, takes pride in presenting the Medal of Honor (Posthumously) to Corporal James Davidson Heriot (ASN: 1311750), United States Army, for extraordinary heroism on 12 October 1918, while serving with Company I, 118th Infantry, 30th Division, in action at Vaux-Andigny, France.  Corporal Heriot, with four other soldiers, organized a combat group and attacked an enemy machine-gun nest which had been inflicting heavy casualties on his company.  In the advance two of his men were killed, and because of the heavy fire from all sides the remaining two sought shelter.  Unmindful of the hazard attached to his mission, Corporal Heriot, with fixed bayonet, alone charged the machine gun, making his way through the fire for a distance of 30 yards and forcing the enemy to surrender.  During this exploit he received several wounds in the arm, and later in the same day, while charging another nest, he was killed.
CPL Heriot's nephew was named for him and graduated Clemson in 1940.  His great nephew (also named for him) graduated Clemson in 1978.
Sergeant Gary Foster (OYA 1920) was awarded the Medal of Honor in the same ceremony for his action on October 8, 1918.  Sergeant Foster served in F Company, 118th Infantry Regt.
The Watchman and Southron on February 6, 1919 announced award of the Medal of Honor to CPL James D. Heriot (note SGT Gary E. Foster, OYA 1920 is also listed.)
Related Images Click to Enlarge
Extra Documents
Vignette in The Echo written by Kelly Durham – Medal of Honor Winner James Davison Heriot