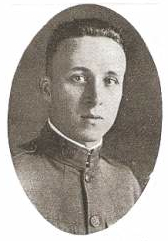 1923

Civil Engineering

Football Team I, Football Manager, Block C, A.I.E.E., Radio Club, Abbeville Club

Abbeville, South Carolina

Surviving were his wife and daughter Fran; brother, Lieutenant Robert R. Coleman; and sister, Mrs. D. T. Smith Sr.

Army, Captain

Headquarters, US Army Service of Supply

Jan 15, 1902

Jan 28, 1944

FOD - Killed in a B-25 crash between Queensland Australia and New Guinea

Memorialized at Manila American Cemetery, Tablets of the Missing and at Melrose Cemetery in Abbeville, SC

SE
Additional Information
MACR / Accident report # 3020    Aircraft Model  B-25 G1  _S/N # 42-64881Organization: Location Durand Field New Guinea; Command or AAF/AF – Fifth AAF; Group – 38th Bomber  (Medium); Squadron *23rd Bomber; Place of Departure Townsville Australia; Target or Intended destination; Durand Field New Guinea; Type of Mission- Administrative Flight:         Date: January 28, 1944; Time; Unknown; Location of Crash; Between Townsville Australia and Durand Fiels N. G; Reason Aircraft was Lost;  Cause of loss Unknown; Number of persons aboard aircraft; Crew – 5  Passengers- 6  Total – 11.
List of Crew:
Pilot             1LT  Donald T. Renshaw, O-796885
Co-Pilot      2LT  Jesus P. Badia, O-678139
Nav            1LT  Calhoun P. Narten, O-795435
Crew Chief  T/S  Norman L. Nelson
Radio Op    S/S  Charles D. Plageman
Passenger    Capt Coleman, James F. – and five others
Narrative statements; B25G-1, number 42-64881 was received from the 4th Air Depot Group, Townsville for transfer to 38th Bomb Group.  Took off from Garbutt Field, Townsville for Durand Field, Port Moresby at 11:30 January 28, 1944.  Plane never reached destination.  A radio check of all fields in Australia and New Guinea within range failed to reveal 881's whereabouts.  Radio message requesting crew and passenger list was sent to Base Operations, Garbutt Field, was received and answered, but message was garbled.  Another radio message was sent requesting written crew and passenger list to be sent Safe Hand Courier answer not yet received. Rescue Service, Advance Echelon Fifth Air Force, APO 929 was immediately notified.  Extent of Rescue Service search unknown.  Aircraft of 38th Bomb Group made intensive search of sea and coast with 100 miles range of Port Moresby.  Aircraft of 38th Bomb Group en route to Townsville for modification reported sighting possible wreckage 97 miles south of Port Moresby.  Other aircraft of 38th Bomb Group made intensive search of this area.  While searching this area, plane 42-64810 is also missing.  Search for both planes continuing.  Added Note: All crew and passengers were killed.
Related Images Click to Enlarge
Extra Documents
Vignette in The Echo written by Kelly Durham – Two Clemson Men, One Fateful Flight