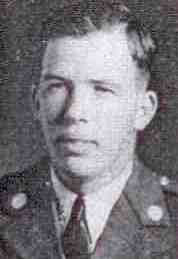 1944

Mechanical Engineering

Columbia, South Carolina

Army Air Force, Sergeant

785th Bomb Squadron, 466th Bomb Group

Purple Heart, Air Medal, Good Conduct Medal, American Campaign Medal, European-African-Middle Eastern Campaign Medal, Bronze Service Star, WWII Victory Medal

Jul 2, 1921

Mar 27, 1944

Killed in Action in a crash landing.  

Elmwood Memorial Gardens, Columbia, SC

SE
Personal Remembrances
ACTIVITY DURING WWII MOVED TO ENGLAND ON MARCH 7, 1944.  SERVED IN THE EUROPEAN-AFRICAN-MIDDLE EASTERN THEATER AS A SERGEANT ABOARD A B-24 'LIBERATOR' BOMBER.  ASSIGNED TO THE 785TH BOMBARDMENT SQUADRON, 466TH BOMBARDMENT GROUP, 8TH AIR FORCE STATIONED AT ATTLEBRIDGE, ENGLAND.  ENTERED COMBAT ON MARCH 22, 1944 DURING A DAYLIGHT RAID ON BERLIN.  KILLED IN ACTION ON MARCH 27, 1944.  AWARDED THE PURPLE HEART, AIR MEDAL, GOOD CONDUCT MEDAL, AMERICAN CAMPAIGN MEDAL, EUROPEAN-AFRICAN-MIDDLE EASTERN CAMPAIGN MEDAL WITH BRONZE SERVICE STAR AND WWII VICTORY MEDAL https://wwiimemorial.com/registry/search/pframe.asp?HonoreeID=2027166&popcount=1&tcount=5
Also see: https://forum.armyairforces.com/tm.aspx?m=218164&high=james+crawford  
Additional Information
Accident Report 44-3-27-527
Unit: 466th Bomb  Group, 785th Bomb Squadron
Combat operation
Crash landing; cause unknown resulted in total loss of aircraft and personnel
Location: North Green Hoe, England
Date 10:20am March 27, 1944
Aircraft B24, SN# 42-52562
According to Aircraft Accident Report 44-3-27-527: The pilot of SGT Crawford's plane was completely off course and experiencing material failure.  It is believed he was finding a place to land when the crash occurred.  One and a half miles away another plane crashed there were no substantial evidence confirming a mid-air collision.
Related Images Click to Enlarge
Extra Documents
First Mission – Vignette written by Kelly Durham for The Echo