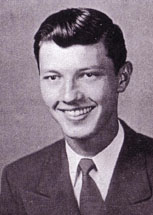 1949

Arts and Science

Cadet First Sergeant, Captain, Major, Senior Council; Who's Who Among American Colleges and Universities; Simpson Medal; Distinguished Military Student; Senior Platoon; Pershing Rifles 1,2, Captain 3; Regimental Command, Glee Club, Executive Sergeants Club, YMCA Council

Greensboro, North Carolina

Army, First Lieutenant

Company B, 1st Battalion, 7th Cavalry Regiment, 1st Cavalry Division

Silver Star, Purple Heart with Oak Leaf Cluster, Combat Infantryman's Badge, Korean Service Medal, United Nations Service Medal, National Defense Service Medal, Korean Presidential Unit Citation, Republic of Korea War Service Medal

Mar 17, 1929

Jan 29, 1951

He was seriously wounded on January 28, 1951 and died of those wounds the following day.

Forest Lawn Cemetery, Greensboro, NC

NE
Personal Remembrances
James Gay Hickerson, Clemson '49, and I first knew each other at the age of  twelve in the early forties when enrolled at Edwards Military Institute (EMI), a prep school in eastern North Carolina.  This was a fortuitous occurrence for me because our friendship began in those early days and we became closely associated until his battlefield death early in the Korean War.
Jim was born in Greensboro, NC on March 19, 1929.  While at EMI he made a solid academic record and played the trombone in the school band, becoming its captain in his senior year.  From the outset he was recognized having been "raised right" as evidenced by his polite and gentlemanly ways.  Moreover, he was a handsome young man of unusual height with an ever pleasant smile.  It was obvious that he would become a leader.  Based on what he's heard, the current director of The EMI Alumni Association says Jim appears to have been the school's own version of Robert E. Lee.
High school graduation for Jim and me came in June, 1945.  I was delighted when he told me he would enroll at Clemson.  Jim acquired many accolades and honors there, including being selected for Who's Who among students in American Universities and Colleges, and serving on the Senior Council.  He was designated a Distinguished Military Graduate in June 1949, and commissioned a second lieutenant in the Regular Army (tenured).  During his first year service he attended the Army's Ground General School at Ft. Leavenworth, Kansas, and the Basic infantry Officer Course at Ft. Benning, Georgia where his training included qualification as an Army parachutist. At approximately the time of completion of the latter training, the Korean War began and Jim was sent to The Far East Command where he joined the 7th Cavalry Regiment, First Cavalry Division.  Serving as an infantry platoon leader in the perilous Pusan Perimeter phase of the war he was seriously wounded on September 10, 1950 and returned to duty on October 23, 1950.  He was seriously wounded again on January 28, 1951 and died of those wounds the next day.  For his exemplary performance of duty on the battlefield he was awarded the Silver Star, our nation's third highest decoration for valor.  Jim was buried in his home town, Greensboro, NC.
Paul Lunsford, Clemson '50
I became acquainted with Jim Hickerson during my Freshman year at Clemson, where he was a Cadet Captain and Adjutant of the Battalion in which I was assigned.  Since the battalion staff was quartered on the same hall as my company, we had to run "Rat Calls" for them as well as our company's upperclassmen, and I vaguely remember running a few for Jim.  The following year he was assigned initially as a Battalion Executive Officer, but due to an unexpected vacancy early in the first semester he became the Regimental Executive Officer -- or the second ranking cadet in the Corps.  Other than speaking to him when our paths happened to cross, I had even less contact with Jim that year -- but I distinctly remember how impressive he was as a cadet leader.
The incident I especially remember about Jim occurred when he visited campus in the Spring of 1950.  I saw him standing outside Tillman Hall, resplendent in his Army Tan (summer semi-dress) uniform.  We had a brief conversation, and when I reached my room I told my Old Lady (roommate) that Jim was on campus.  He stated that he had seen him as well, and commented: "He looked like a General."  Indeed, Jim's bearing was just what we think of as that of the "textbook soldier," and in view of his battlefield valor in combination with that bearing, had he lived to complete a full career in the Army I expect my Old Lady's impression would have come to fruition.
W. Richard Mattox, Class of '51
Additional Information
Citation for the Silver Star Medal:
AWARD OF THE SILVER STAR (POSTHUMOUS) — By direction of the President, under the provisions of the act of Congress approved 9 July 1918 (WD Bul 43, 1918), and pursuant to authority contained in AR 600-45, the Silver Star for gallantry in action is awarded posthumously the following named officers and enlisted men:
First Lieutenant JAMES G HICKERSON 061983, Infantry, United States Army, Company D, 7th Cavalry Regiment, 1st Cavalry Division, for gallantry in action against the enemy on 28th January 1951, near Onjan-ni, Korea.  Lieutenant Hickerson was in charge of the point vehicle during a battalion movement and had halted preparatory to sending a patrol into a village.  When a large enemy force suddenly opened fire from the village and both flanks, Lieutenant Hickerson quickly deployed his machine gun and 57mm recoilless rifle section into advantageous positions and returned the fire.  Although exposed to the intensive volume of bullets that swept the area with deadly effect, he moved from man to man to give encouragement and fire directions.  After silencing the enemy guns to his front, Lieutenant Hickerson started to move the recoilless rifle closer to another area of fighting when automatic fire from a ridge flank stopped the movement.  Again deploying his men into defensive positions, he courageously moved among his weapons, fully exposed to the enemy, to give fire directions and advice.  While in the midst of this dauntless act, Lieutenant Hickerson was struck by hostile fire and eventually died of these wounds.  Due to his gallant leadership, Company D was materially aided in inflicting serious losses upon the enemy, and enabling the battalion movement eventually to move in safety.  Lieutenant Hickerson's exemplary devotion to duty at the cost of his own life reflected the highest
credit on himself and the military service.  Entered federal service from North Carolina.
Related Images Click to Enlarge