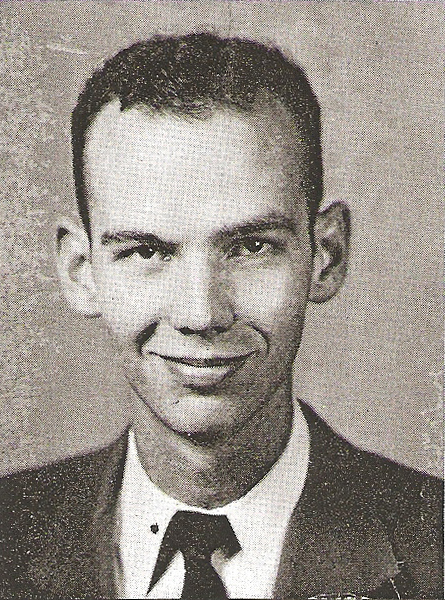 1951

Textile Manufacturing

Cadet Sergeant, Sergeant First Class, First Lieutenant Platoon Leader; Honors 3; BSU; YMCA Council Vice President; Best Drilled Platoon, Best Drilled Company

Spartanburg, SC

Army, First Lieutenant

179th Infantry Regiment, 45th Infantry Division.

Silver Star, Purple Heart, Combat Infantryman's Badge, Korean Service Medal, United Nations Service Medal, National Defense Service Medal, Korean Presidential Unit Citation, Republic of Korea War Service Medal.

Jul 28, 1930

Oct 29, 1952

First Lieutenant Turner was Killed in Action while fighting the enemy in North Korea on October 29, 1952.

Greenlawn Cemetery, Spartanburg, SC

NW
Personal Remembrances
"My roommate at Clemson was James H. Turner (2 years).  We graduated on June 3, 1951.  I didn't see him again after graduation until September, 1952 in Japan when I ran into him.  We had a brief conversation (at Camp Drake) and he was off to his unit.  I regret not having asked him more about his duties with the 179th Infantry Regiment."
Earle Gaulden
Class of 1951
Greenville, SC
"James Turner came from Spartanburg in 1947.  He was a hard worker, rather serious and quiet.  His major was Textile Manufacturing and he was willing to put in the time it took to get Honors.  James' outlook on life is noted by his participation in the Baptist Student Union and YMCA Council.  He took ROTC summer camp at Fort Benning, Georgia and reported to the 45th Infantry Division in Korea where he obtained the rank of First Lieutenant.
In mid-1952 Turner was in Tokyo where he ran into his former roommate Earle Gaulden.  Earl reported that Turner had already seen action in Korea and was headed back for his final months, expecting as they all did to rotate home.  Let us not forget this brave man, our classmate John H. Turner."
William Laffoday
Class of 1951
Charlotte, NC
"As 'Rats,' although we were assigned to different companies, Jim Turner and I lived almost directly across the hall from each other on the first floor of 1st Barracks.  Accordingly, I knew him almost from the day we entered - and since we were both active in the Baptist Student Union and were enrolled in Infantry ROTC, we were together frequently and were friends all four years at Clemson.  We even went into the Army the same day and, along with about 20 others, were barracks mates for the Company Officers' Course from August until November of 1951 - during which time Jim played a humorous trick on me.
I think that at sometime Jim told me he had the ability of ventriloquism, but I had never seen him demonstrate 'throwing his voice.'  One night in the barracks, I heard a voice calling: 'Lt. Mattox.' I looked around and could see no one calling me.  Another two or three times I heard the voice call out, 'Lt. Mattox;' and I was beginning to think I was 'going nuts' hearing my name called from out of nowhere.  Then Jim started laughing; I realized he had fooled me - and we had a good laugh together!
Shortly before completion of the course almost all of our Class were ordered to the Far East, with a provision that we would serve three months troop duty in Japan prior to going to Korea.  We went over together on the same ship, and it was only when we got to Japan and were sent to different Regiments that I saw Jim for the last time.  Jim indeed was sent to Korea in May 1952, albeit a number of us were held in Japan for another three months.  Sometime that fall I, with great sadness, learned of his being killed; but, only recently did I learn of his heroism that resulted in the award of a Silver Star.  Jim was a committed Christian gentleman, and the world is poorer because of his untimely death."
W. Richard Mattox
Class of 1951
Additional Information
AWARD OF THE SILVER STAR (POSTHUMOUS) — By direction of the President, under the provisions of the act of Congress approved 9 July 1918 (WD Bul 43, 1918), and pursuant to authority contained in AR 600-45, the Silver Star for gallantry in action is awarded posthumously to the following named officers and enlisted men:
First Lieutenant JAMES H TURNER, 02003389, Infantry, United States Army, Company G, 179th Infantry Regiment, 45th Infantry Division, distinguished himself by gallantry in action against an armed enemy near Sintan-ni, Korea.  On the night of 29 October 1952, a patrol from Company G crossed the main line of resistance with the mission of contacting the enemy and engaging them in battle.  As Lieutenant Turner, the patrol leader, guided his men across rough terrain to a point at the base of two small knolls, point-blank enemy fire cut into the patrol from both flanks.  Although seriously wounded in the chest by this cross fire, Lieutenant Turner refused to seek cover or medical aid.  Realizing the impossibility of his patrol's position, he ordered the withdrawal of his men. As the patrol maneuvered toward the security of friendly lines, Lieutenant Turner raised to his knees and directed rapid covering fire for the unit until fatally wounded.  Lieutenant Turner's effective fire was responsible for the survival of many members of the patrol and his devotion to his men and his gallant leadership reflect the highest credit on himself and the United States Army.  Entered the Federal Service from South Carolina.
Related Images Click to Enlarge
Extra Documents
Vignette in The Echo written by Kelly Durham – The World Is Poorer Because of His Untimely Death