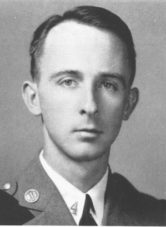 1939

Chemical Engineering

Honors 1; Freshman, Junior and Senior Platoon; Columbia Club; Alpha Shi Sigma Honorary Chemistry Fraternity

Columbia, South Carolina

Wife, Leah Ann Crites, Son James Jr., Daughter, Nancy Ann

Army, Captain

Ordnance Branch, Camp Santa Anita California

Jun 17, 1917

Jun 10, 1944

DNB - He developed an inflammation of the iliem (Ilitis) that led to his death.

Stoutsville, Ohio

SW
Personal Remembrances
Personal Remembrances and Tributes:
Captain J. Harold Bracey, popular young Columbian, died in Torney General Hospital in Palm Springs, CA of a severe ileitis.  He was laid to rest in Maple Hill Cemetery in Stoutsville, Ohio, the home of his surviving widow, on June 17, 1944, his twenty-seventh birthday.
Harold was born on June 17, 1917 in Rives, VA, a son of Mr. Virginia C. and Mrs. Evelyn J. Bracey.  By 1930 the family had moved to Columbia, SC.  After completing the public schools in Columbia, Harold attended Clemson College, where he graduated in 1939 with a BS degree in Chemical Engineering.  In college he was a member of the fancy drill platoons his Freshman, Junior and Senior years.  He also was a member of Alpha Chi Sigma, honorary chemistry fraternity.
Following graduation, he was employed by DuPont in the manufacture of nylon, but on April 7, 1942 he entered into active duty with the army.  Around the end of 1942 he married Leah Ann Crites of Clem Creek, OH, and Jimmy, Jr. was born in August 1943.  In 1944 they also had a daughter, Nancy Ann.  It was while he was stationed with the Ordinance Branch at Camp Santa Anita, CA, that he developed an inflamation of the ileum that led to his death.
His survivors included his wife and family of Stoutsville, OH; his parents and a sister, Miss Virginia Bracey, all of Columbia, SC. - Biography written by James O, Sweeny, Clemson College Class of 1939.
Additional Information
Related Images Click to Enlarge
Extra Documents
Ileitis – Vignette written for the Echo by Kelly Durham