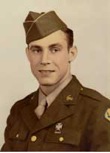 1946

Transportation Engineering

Greenville, SC

Army, Sergeant

Company E, 264th Infantry Regiment, 66th Infantry Division

Purple Heart

Jan 30, 1925

Dec 25, 1944

Killed in action when the troop ship, SS Leopoldville, was sunk off the coast of Cherbourg, France.

Graceland West Cemetery and Mausoleum, Greenville, SC

SE
Additional Information
The Belgian transport ship SS Leopoldville, an 11,500 long tons (11,700 t) passenger liner converted for use as a troopship in the Second World War was struck by a torpedo in the English Channel approximately five miles from the coast of Cherbourg, France on Christmas Eve, 24 December 1944, less than five months before the end of the war in Europe.  Prior to the attack, the Leopoldville had made 24 cross-Channel crossings, transporting more than 120,000 troops.  The Leopoldville was in a diamond formation with four escort destroyers and another troopship the SS Cheshire embarking from Southampton, England that evening.  These ships were involved in the crossing: [1]
On the day of the attack, the Leopoldville was carrying reinforcements from the 262nd and 264th Regiments, 66th Infantry Division of the United States Army towards the Battle of the Bulge.  Of the 2,235 American servicemen on board, approximately 515 are presumed to have gone down with the ship.  Another 248 died from injuries, drowning, or hypothermia.  Captain Charles Limbor, one Belgian and three Congolese crew members also went down with the ship.  An unknown number of British soldiers died.
Extract from: https://en.wikipedia.org/wiki/SS_Leopoldville
Related Images Click to Enlarge
Extra Documents
Christmas Crossing – Vignette written by Kelly Durham for The Echo