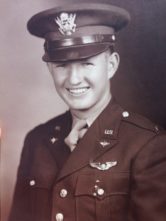 1943

Mechanical Engineering   

Belmont, NC / Spartanburg, SC   

Army Air Force, Second Lieutenant  

446th Bomb Squadron, 321 Bomb Group

Purple Heart

Aug 24, 1920

Mar 24, 1943

Killed in Action

Greenwood Cemetery, Belmont, NC

SE
Personal Remembrances
This article appeared in the 4/22/1043 edition of The Tiger (Clemson College student newspaper)
Lt. Cox Reported Missing In N. Africa
Second Lieutenant James L. Cox, mechanical engineering 39-'41 of Belmont has just been reported missing from the Army Air Corps in North Africa.  Lt. Cox attended Clemson for two years before enlisting In the Cadet Air Corps in Charlotte.  He received his training at Columbus, Miss.
Additional Information
Missing Air Crew Report #14577
Departure: Ain M'Lila, Algeria. March 24, 1943
Destination: Tebaga, Tunisia
Combat Mission
Type of Aircraft: B-25C (41-13212)
Number of crew 6
Parachutes were used
According to Missing Air Crew Report #14577: Airplane No. 41-13212 was hit in the radio-compartment by heavy anti-aircraft fire over the target.  It was reported that four parachutes were seen open.  Lt. Stine was reported MIA 24MARCH1943 then later received by the German army on 6MAY1943.  He is now a prisoner of war.  Only 2 survivors from crash – Lt. Stine and SSGT Trepple.
Crew:
1st LT Stine, Donald A. [PILOT] 2nd LT Cox, James L. [CO-PILOT] 2nd LT Brewster, Ernest I. [BOMBARDIER] S/SGT. Midkiff, Howard H. [GUNNER] SGT. Trepple, John J. [GUNNER] S/SGT. Louis, Thomas A. [GUNNER]
Related Images Click to Enlarge
Extra Documents
Vignette in The Echo written by Kelly Durham – Cox was Army Air Force Co-Pilot