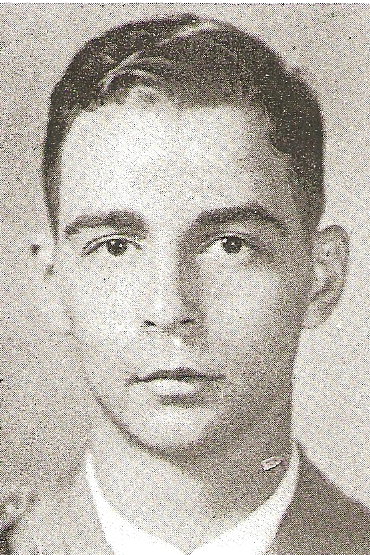 1935

General Science

Cadet Corporal, First Sergeant, Captain, York County Club; Sigma Epsilon; Jail Bird Club; Junior and Senior Platoon; Freshman Football Manager

Fort Mill, South Carolina

Wife - Francis Moore Harris. One son - James Mack, Jr.

Army, First Lieutenant

Company E, 2nd Battalion, 22nd Infantry Regiment, 4th Infantry Division

Silver Star, Bronze Star, Purple Heart; European- African Middle Eastern Campaign Medal w/one Bronze Star; WWII Victory Medal; Combat Infantry Badge

Aug 3, 1913

Jun 14, 1944

Killed in Action during the liberation of France

Normandy American Cemetery, Plot F, Row 3, Grave 66. Memorial marker at Unity Cemetery, Fort Mill, SC.

SE
Personal Remembrances
Silver Star citation - (HQ, 4th Infantry Division, G.O. No. 62 1944);
First Lieutenant James M. Harris, 0327076, Inf, for gallantry in action against an enemy of the United States in France,from 6 June to 19 June 1944.  The initiative and courage displayed by this officer reflects great credit upon himself and the armed forces of the United States.  Entered the military service from South Carolina.
Additional Information
Activities of the 4th Infantry Division around the time of Lt Harris' death: Chosen as the spearhead amphibious division of the D-Day landing on the Normandy coast of France, the men of the 4th Infantry Division stormed ashore at H-Hour (0630 hours) on a stretch of the French coast named – for this operation and forever after – Utah Beach.  After their successful D-day landing, the men of the Ivy division fought through the hedgerows of the Cotentin Peninsula en route to taking the critically important port of Cherbourg on June 25, 1944.  The division was in continuous action during the period of June 6 to June 28 when the last resistance around Cherbourg was eliminated.  During this period, the 4th Infantry Division sustained over 5,450 casualties and had over 800 men killed. Source- https://www.wartimepress.com/archives.asp?TID=004%204th%20Infantry%20Division&MID=Infantry%20Divisions&q=123&FID=89
Other: ID: 0-327076
Related Images Click to Enlarge
Extra Documents
Vignette in The Echo written by Kelly Durham – Across the Beach