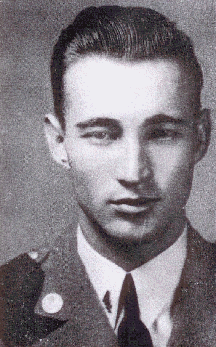 1940

Textile Engineering

Cadet Sergent and Second Lieutenant; York County Club; Army ROTC, Fort McClellan, Alabama

Clover, South Carolina

Son of Mr. and Mrs. Parks L. Parrish

Army, First Lieutenant

Company C, 158th Regimental Combat Team (Bushmaster)

Bronze Star, Purple Heart, Presidential Unit Citation, Good Conduct Medal, American Defense Service Medal, Asiatic-Pacific Campaign Medal, World War II Victory Medal

Sep 17, 1917

Jun 10, 1944

Wounded in action on New Guinea May 27, 1944; died as result of wounds June 10, 1944.

Lieutenant Parrish's remains were recovered and brought home for burial in Woodside Cemetery, Clover in York County South Carolina.

SW
Additional Information
Born Sept. 17, 1917.  Entered service Jan. 9 194?  Ft. Jackson S.C.; Camp Wheeler, Ft. Benning, Ga.; Panama Canal; Australia; New Caledonia.  Wounded in action on New Guinea May 27, 1944; died as result of wound June 10, 1944.  Awarded PH, BSM, P, Unit Cit., G, M., VM, Amer., AP.  Attended Clover H.S.  Clemson Col.  Methodist.  Son of Mr. and Mrs. Parks L. Parrish, Clover, S.C.
Unit Activity at the time of Lt. Parrish's Death – May 17-June 12, 1944 Wadke-Sarmi Engagement
After a short rest period, the 158th was combined with the South Dakota 147th Field Artillery to create Task Force Tornado.  That force was sent to relieve the 163rd RCT of the 41st Division, which had invaded and taken Wakde Island on May 18, and was now engaged in a grueling drive to take Sarmi on the mainland of Dutch New Guinea.  The 158th disembarked at Toem on May 21.
Under the command of Brig. Gen. Edwin D. Patrick, Task Force Tornado unwittingly advanced into a trap.  Initially surprised by the American landing at Wakde, Japanese Lt. Gen. Hachiro Tagami had recalled the scattered elements of his 36th "Tiger" Division and amassed a force of 11,000 troops.  Only half of them were combat troops, but those combat troops included first-rate army soldiers and members of the Naval Guard detachments–well-trained, 6-foot-tall Japanese who were often mistakenly referred to as marines by Americans.  Tagami planned to encircle Task Force Tornado with two pincers that would meet at the Toem-Arara beachhead.
On the morning of May 23, the 158th crossed the Tor River and advanced on the Maffin airstrip–only to be stopped by the Japanese.  On the following day, the 3rd Battalion of the 224th Infantry and a company of the 223rd Infantry launched a banzai charge against the dug-in Bushmasters, but the Japanese were repulsed with heavy losses.  The 158th resumed its advance on May 25, and by that evening their toughest objective lay before them–a coral ridgeline whose rain forest was dominated by a single towering tree that earned it the misleading name of Lone Tree Hill.  Over the next several days, the 158th made agonizingly slow progress, occasionally capturing a foothold, sometimes pulling back to avoid being caught in one of Tagami's flanking maneuvers, sometimes beating back the Japanese attacks.–   Extract from-  https://bushmasters158.org/history.htm
Related Images Click to Enlarge