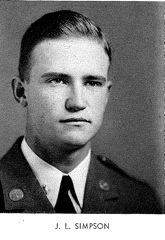 1941

Agronomy

Cadet First Lieutenant, A&R Officer, Company G, Second Battalion, Second Regiment; Kappa Alpha Sigma; Anderson County Club; Senior Platoon; Marksman, ROTC Camp Fort McClellan, AL.

Iva, SC

Wife: Annie Lois Jones Simpson; Parents - Mr. and Mrs. J. I. Simpson

Army Air Force, Second Lieutenant

374th Troop Carrier Group

Silver Star, Flying Cross and Air Medal

Dec 6, 1919

Dec 25, 1942

Death Non-Battle. Killed in New Caledonia in an automobile accident.

Iva City Cemetery, Iva, SC

NE
Additional Information
Posthumous Silver Star Citation:
JEROME L. SIMPSON, 0790046, 2nd Lieutenant, 6th Troop Carrier Squadron, 374th Troop Carrier Group, Air Corps, United States Army.  For gallantry in action near Buna, New Guinea, on November 20, 1942.  Next of kin: Mr. John L. Simpson, (Father), Iva, South Carolina.
Other:
MOTHER OF DEAD FLIER RECEIVES THREE MEDALS
Ceremony Held At Home at Iva Sunday Afternoon
Three decorations, awarded posthumously to Second Lieutenant Jerome L. Simpson of Iva, were yesterday afternoon presented to Lieutenant Simpson's mother, Mrs. John L. Simpson, at a brief but impressive ceremony in front of the Simpson home.  More than 200 persons witnessed the ceremony.  The presentations were made by Colonel Oliver H. Stout, commander of the Greenville Army Air Base.
Lieutenant Simpson, who was in the Air Corps, was killed in the Southwest Pacific early this year.  The Silver Star was awarded the Anderson County flier for gallantry in action in New Guinea November 1942.  The Distinguished Flying Cross was awarded extraordinary achievements from October 1942 to December 1942. and the Air Medal was awarded meritorious achievement in 25 air operations.
Extract from unknown newspaper source.
"Iva Officer In Army Dies In Pacific Area
2nd Lt. J.L Simpson was killed in an automobile accident "somewhere in the pacific area" on December 25.  Lt. Simpson was a graduate of Clemson College in 1941."
Extract: Unknown
Related Images Click to Enlarge
Extra Documents
Non-Battle Death – Vignette written by Kelly Durham for The Echo