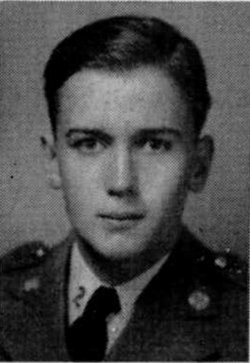 1945

Electrical Engineering

Colquitt, Georgia

Army Air Force, Second Lieutenant

487th Bomb Squadron, 838th Bomb Group

Apr 8, 1944

Aug 5, 1944

Killed in Action - Germany (Lostau)

Colquitt City Cemetery, Colquitt, Georgia

SE
Personal Remembrances
"Enlisted and served in the 487th Bomb Group, 838th Bomb Squadron, Station 137, Lavenham, England.  He flew 5 missions in B-17 43-38007.  Killed in Action on 5 August 1944."
Extracted from: WWII Memorial website
Jesse E. Gregory was the bombardier of B-17G 43-38007 of the 487th Bomb Group and was KIA on August 5, 1944.  The full story of that mission and the loss of the crew, including a crewphoto, is in the Group History.  See https://www.487thbg.org/book/487thBook.htm
Kind regards,
Ivo de Jong
Extracted from: https://www.com-web.com/wwwboard/ARCHIVE/PRE-2009-09/2005-08.html
Additional Information
MARC/ Accident report #: 7893;
Aircraft Model: B-17G; S/N#: 43-38007
Organization: Location: Lavenham, England
Command or AAF/ AF: 8th AF;  Group: 487th ;  Squadron: 838th
Place of departure: Lavenham, England
Target or Intended Destination: Magdeburg, Germany
Type of Mission: Operational
Date: August, 5 1944 Time: 1240; Location of Crash: Lostau, Germany
Number of Person Aboard Aircraft-  Crew: 10 Passengers: 0  Total: 10
List of Crew (crew positions, name, rank, status)
2nd Lt. Deuschle, Charlton A. (Pilot)
2nd Lt. Steffens, Eugene F. (Co-Pilot)
2nd Lt. Underwood, Allan B. (Navigator)
2nd Lt. Gregory, Jesse E. (Bombardier)
T/Sgt Late, Carl L. (Engineer)
S/Sgt Cochran, William J. (Radio Operator)
Sgt Hinkson, Harry M. Jr. (Tail Gunner)
Sgt. Deelaney, Grady E. (Ball Turret Gnr)
Sgt. Haglund, John L. (Waist Gnr)
Sgt. Crooker, Robert J. (Waist Gnr)
Narrative or eye witness statements
2nd Lt. Gregory's aircraft was only 1-2 minutes away from dropping its bombs when it received a direct hit in the bomb bay causing it to go into a spin.  The aileron controls were destroyed and the rudder jammed way in.  The tail and part of one wing were blown off.  While some of the crew were able to bail and survived the crash, sadly Lt. Gregory was found dead at the crash site.  He was buried on August 6th 1944 in the Community Cemetery Lostau Germany.
The crew arrived in July 44 at Lavenham, England and started operations on August 1.  They were flying B-17s, as the 487th had just switched from B-24s then.  B-17G 43-38007 received a direct hit by flak in the right wing, and exploded within seconds.  It crashed near Lostau, 13 km SW of Burg near Magdeburg, Germany.  Deuschle and Crooker were the only POW survivors.  German officials reported that the dead were buried in Community Cemetery Lostau 6 August 1944.
____________________________________________
Gregory, Jesse E.     2/Lt         05 AUG 1944      USA, GA Bombardier on the Charlton A. Deuschle crew, 838th Bomb Squadron; killed in action on 5 August 1944 when B-17G 43-38007 was shot down by flak and crashed near Magdeburg, Germany. Pilot 2/Lt Deuschle and gunner Sgt Robert J. Crooker survived and became prisoners of war (MACR 7893).
ACTIVITY DURING WWII: ENLISTED AND SERVED IN THE 487TH BOMB GROUP, 838TH BOMB SQUADRON, STATION 137, LAVENHAM, ENGLAND.  HE FLEW 5 MISSIONS IN B-17 43-38007.  KILLED IN ACTION ON 5 AUGUST 1944.
Extract of information provided by: Paul M. Webber
Secretary, 487th Bomb Group Association <www.487thbg.org>
Related Images Click to Enlarge