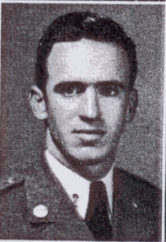 1943

Architecture

Junior Taps Staff; Newman Club; The Minarets

Santurce, Puerto Rico

Army Air Force, 2nd Lieutenant

38rd Bomb Group, 823rd Bomb Squadron

Nov 6, 1919

Jan 28, 1944

DNB - Died in a B-25 crash near Port Moresby, New Guinea

Manila American Cemetery and Memorial, Tablets of the Missing; Fort Bonifacio; Manila, Philippines

NE
Additional Information
List of Crew (Crew Position, Name, Rank, Status)
1LT Donald T. Renshaw, 0-796885
2nd LT Jesus P. Badia, 0-678139
1LT Calhoun P. Narten, 0-795435
Sgt William D'Elia
T/S Norman L. Nelson
S/S Charles D. Plageman
Narrative Statements: B25G-1, number 42-64881 was received from the 4th Air Depot Group, Townsville for transfer to 38th Bomb Group.  Took off from Garbutt Field, Townsville for Durand Field, Port Moresby at 11:30 January 28, 1944.  Plane never reached destination.  A radio check of all fields in Australia and New Guinea within range failed to reveal 881's whereabouts.  Radio message requesting crew and passenger list was sent to Base Operations, Garbutt Field, was received and answered, but message was garbled.  Another radio message was sent requesting written crew and passenger list to be sent Safe Hand Courier, answer not yet received.  Rescue Service, Advance Echelon Fifth Air Force, APO 929 was immediately notified.  Extent of Rescue Service search unknown.  Aircraft of 38th Bomb Group made intensive search of sea and coast with 100 miles range of Port Moresby.  Aircraft of 38th Bomb Group enroute to Townsville for modification reported sighting possible wreckage 97 miles south of Port Moresby.  Other aircraft of 38th Bomb Group made intensive search of this area.  While searching this area, plane 42-64810 is also missing.  Search for both planes continuing.  Note: All crew and passengers were killed.  Captain James Coleman, Clemson Class of 1923, was one of six passengers on the flight.
Following is the 823rd Bomb Squadron Report – 28 January 1944.  Lt Renshaw and crew took off  from Garbutt Field, Townsville at 1100/L in B-25G #42-64881. E.T.A. Port Mores by 1445 L.  This plane did not arrive on schedule.  A check is being made at all possible airfields, where it may have landed.  No report at 2000 hours.  Perhaps word will come through the night.  These losses are the most tragic of all.  The crew was: Pilot Lt. Donald T. Renshaw, Co-Pilot  Lt. Jesus P. Badia, Navigator Lt. Justus W. Backman, RO.SSGT Charles D. Plageman and Mechanic Sgt. William D'Elia; plus five passengers.
Following is the 823rd Bomb Squadron Report – 29 January 1944
.  Searches are still being made for the aircraft, which went missing on 28 January 1944.  War and victory always have their price, however, and the past few days  is no exception for us.  The plane took off – disappeared into the clouds – and has never been heard from since.  What strange trick of fate was sprung on this plane, we shall probably never know.  They  are gone and sadly, but with Honor, we add their names to the long list of "Unsung Heroes" of World War II.   We are thankful to Jack DeTour, Col USAF (R), Pres, 38 BG ASSN for providing the above reports.
Related Images Click to Enlarge
Extra Documents
Two Clemson Men – One Fateful Night – Echo Article written by Kelly Durham