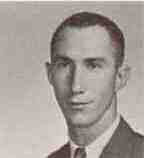 1967

Agronomy

Agronomy Club 3, 4; AFROTC 3, 4; Commandant, Cadet Leadership School, 4; Fencing Club 2, 3, 4

Lutz, Florida

Charlotte Featherston LeHecka

Air Force, First Lieutenant

20th Tactical Air Support Squadron, 504th Tactical Air Support Group, 7th Air Force, Da Nang Air Base, Republic of Vietnam

Purple Heart, Air Medal, National Defense Service Medal, Vietnam Service Medal, Republic of Vietnam Gallantry Cross Unit Citation with Palm, Republic of Vietnam Campaign Medal

Mar 12, 1942

Jan 10, 1970

Killed in Action

Lutz Cemetery, Lutz, FL.

SE
Personal Remembrances
I met John LeHecka in Vietnam in 1969.  We were both new USAF Lieutenant pilots on our first operational assignment.  He graduated from pilot training at Craig AFB, AL earlier that year; I had graduated from Webb AFB, TX.  Although I didn't know him at the time, we both were assigned to the 4440th Combat Crew Training Squadron at Hurlburt Field in Florida, and went through O-2 Forward Air Controller (FAC) training, at Hurlburt Field, Ft. Walton Beach, FL.  It is located near Pensacola, with beautiful white beaches, fresh oysters, and cold beer.  Our training program had about three weeks of content compressed into about three months, such a deal.
Enroute to Vietnam, we stopped at Clark AFB in the Philippines for Jungle Survival School.  Then, upon arrival at Tan Son Nhut AB, we were shipped to Phan Rang AB for in-country FAC orientation training; it was respectfully referred to as FAC-U.  Neither of us had previous fighter time, so we were categorized as Class B FACs.  That meant, because of prior USAF arrangement with the US Army, we were not allowed to control airstrikes for American troops.  Therefore, we went to fly the out-country interdiction mission, called Steel Tiger, along the Ho Chi Minh Trail in southern Laos.  This later became clearly ironic, since we ultimately controlled airstrikes for small, isolated Special Forces Long Range Reconnaissance Patrols (LRRPs), a much more demanding job than typical in-country close air support.
We were assigned to the 20th Tactical Air Support Squadron (20th TASS) detachment at Pleiku AB, in the central South Vietnam highlands.  An instructor picked us up at Da Nang, I lost the coin toss, so John flew us there, with me stuffed in the back seat.  John's new call sign was Covey 580, mine was Covey 579.  We walked in the door at the 20th TASS together and were joined at the hip from then on.
We were first checked out in the night mission.  We each flew in the left seat, with an "experienced," read "old," navigator in the right seat.  We flew about a five hour mission, taking off on a strange cycle, something like 1500 the first night, 1800 the next night, 2100 the next night, etc., until our night cycle was complete.  There was 24/7 coverage, so we overlapped with another Covey before and after our time on station.  Other units allowed the crews the same take off time each night for about a week, which made sense.  The Pleiku schedule never allowed you to get in sync with your circadian rhythm; I never got a good explanation why somebody thought this was a good idea.
We had OV-10s in the unit, but they did not fly at night since the bubble canopy reflected interior lights and could not be opened like the right window in the mighty O-2, thus not allowing the use of an Army Starlight Scope.  Our navigators used the Starlight Scope to search for targets, primarily trucks.  We carried log flares to drop near a target so the fighters would have a mark on the ground from which to adjust their bombs.  I believe John had a better record than I hitting trucks, but, in general, it was not a very effective system.
We might see trucks on the trails in eastern Laos, then we would request air support, often USAF F-4s or US Navy A-4s,  then wait 10, 20, 30 minutes for the airplanes to show up, if available.  Then we would brief the fighters, try to keep track of the trucks, then drop markers near the target, give the pilots a correction off the marks, such as "Hit 2/3 of the way between my south marker and my north marker". Since everyone had external lights off, the FAC had to orchestrate our locations to avoid running into each other.  It was "dark as the inside of a cow" at night over Laos.  Sometimes you could see 23MM and 37MM anti aircraft artillery (AAA); typically we could clear the fighters in directly on the muzzle flashes, which were pretty obvious at night.  I sympathized with the older navigators who had to hang on while we newbie pilots orchestrated this tableau many times a night.  Add enroute weather, an airplane prone to electrical failures in rain, and mountains and clouds in the target area and you had a very maturing environment for us young pilots.  John and I got through it, with some skill, and some luck.
About four months after arrival, we were selected to fly the highly classified Prairie Fire mission.  In retrospect, it seems we were still pretty new, but the Prairie Fire group thought we were ready.  Since John had spent two years in the Peace Corps, in East Pakistan, now Bangladesh, during a break from Clemson, he seemed to bring a little more maturity to our work.  I recently contacted some of his Prairie Fire instructors at the time.  They also mentioned that he brought maturity and thoughtfulness to our endeavors, but that he was no less aggressive.
Prairie Fire was Covey's most demanding mission, even though it was almost always conducted in the day.  We would fly with an experienced "Covey Rider" in the right seat. This was typically an Army Special Forces NCO or junior officer, who had completed several tours in Vietnam, as a team leader running the LRRPs into Laos and Cambodia.  We controlled Army UH-1 Hueys, AH-1 Cobras and USAF A-1s during insertion and extraction of these teams, typically about three Americans and nine indigenous Montagnards, Vietnamese or Chinese Nung mercenaries.  Sometimes we had to use fast movers, such as the F-4, in emergencies.  I remember having an F-4E "Gunfighter" strafe a smoke can a team on the run had just thrown at the approaching enemy.  It was a great relief to hear the team leader on the radio after that pass.  Most times, it was a close run thing.
These Special Forces were assigned to the Studies and Observation Group (SOG) and were some of the toughest and highly decorated soldiers in the war.  We respected them highly and felt bound to engage in some high risk flying to keep them alive.  The teams usually conducted reconnaissance
along the trail, tried to capture prisoners, and on occasion their Bright Light teams were inserted to find downed airmen or missing team members.  John L. Plaster is a Prairie Fire veteran and has written several books describing the program better than I ever could. His book, "Secret Commandos: Behind Enemy Lines with the Elite Warriors of SOG" describes John LeHecka's last mission.
On that day John and I flew together to Kontum, base for the teams assigned to southern Laos.  John was to pick up a Covey Rider, call sign Haymaker.  Years later I learned he was James "Sam" Zumbrun, a Sergeant First Class, on his third tour.  He had already received the Silver Star, three Bronze Stars, three Purple Hearts and multiple other awards and medals.  All the PF riders wore sterile fatigues, as did the troops on the ground.  We quickly learned their call signs, but very little personal history.
I stayed at the PF detachment that day and they flew a mission to support a company-sized Hatchet Force near the tri border area, where Cambodia, Laos, and South Vietnam come together.  I was in the Tactical Ops Center when the team on the ground relayed that Covey 580 had crashed near their location.  The Army put a small team into the crash site.  It appeared that John had been shot and neither he nor SFC Zumbrun was able to recover the aircraft before crashing.  The team had some difficulty removing them from the wreckage, but first returned John, and later Haymaker, to Kontum. The next day he was returned to Pleiku and properly processed there before returning home.
We had a service for John at the Pleiku Chapel two days later.  In March, 2014, I put out a request to the former Coveys for any pictures or remembrances of John.  George Strand, who flew with us, had a copy of the chapel program.  I forwarded it to Charlotte, John's widow.  A copy is
attached to this narrative.  Many other folks responded with kind and respectful words about John.  We will never know how better the world might have been had he, and so many others, survived to contribute to the future.  Rest in peace, my friend.
John H. Fuller
Col, USAF Retired
Mesa, AZ
April 1, 2014
"I arrived at Craig AFB, Alabama in May 1968 for an assignment as a T-38 Instructor upon my return from my first tour in Vietnam. Lt John LeHecka was one of my first student pilots and, in fact, was my first student to solo.  I remember him as being tall and lanky and a very nice guy.  God Speed, John.  I will never forget you.
Norm Nyary
Biloxi MS 39532
November 25, 2009
"John LeHecka was an Agronomy classmate at Clemson.  I remember him as a mature and purpose driven student who took his class work very seriously."
Leroy Atkinson '66
Bishopville, SC
November 29, 2009
Additional Information
Lt John LeHecka's name is listed on the Vietnam Veterans Memorial Wall in Washington, DC on Panel 14W, Line 023.  His name is also listed on the Forward Air Controller Memorial at Hurlburt Field, Florida.
John LeHecka was born on 12 March 1942.  His secondary education was received at Rock Hill, SC where he graduated from high school in 1960.  He entered Clemson in September 1960 and attended through academic years 1960-61 and 1961-62, ending in May 1962.  He then left Clemson and spent two years in the Peace Corps, after which he returned to Clemson in January 1965.  He remained at Clemson until his graduation on 16 December 1967.  Lt LeHecka entered the Air Force on 15 January 1968 and had his pilot training with the 3615th Pilot Training Wing at Craig Air Force Base, Alabama.  He arrived in Vietnam on 30 July 1969 and was assigned to the 20th Tactical Air Support Squadron, Operating Location 201, Pleiku Air Base, South Vietnam.
At the time of of his death, Lt LeHecka was a Covey Forward Air Controller flying an O-2A aircraft controlling an air strike along the Ho Chi Minh Trail west of Dak To, South Vietnam, near the border with Laos and Cambodia, when his plane was hit by small arms fire.  LeHecka's passenger, Army Sergeant First Class James Zumbrun was also killed in the crash.  Both bodies were recovered.
Related Images Click to Enlarge
Extra Documents
Final Flight – Vignette written by Kelly Durham for The Echo