John Duncan McArthur, Jr.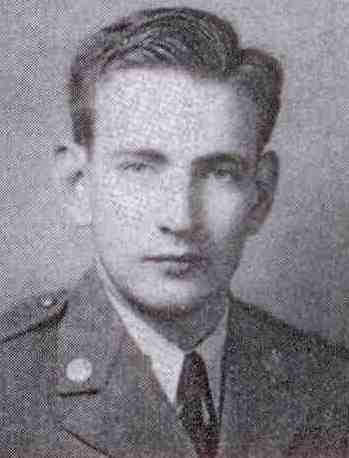 1944

Textile Chemistry

Tiger Brotherhood, Pershing Rifles, Block C

Anderson, SC

Army, Second Lieutenant

262nd Regiment, 66th Infantry Division

Feb 20, 1945

Killed in Action - Aboard the Belgian troopship Leopoldville when it was struck by a German torpedo.

Brittany American Cemetery, St. James, France, Plot F, Row 6, Grave 1

NE
Additional Information
The three regiments of the 66th Infantry Division arrived in England, 26 November 1944, and the remainder of the Division, 12 December 1944, training until 24 December 1944 when the Division crossed the English Channel to Cherbourg on two Belgian steamships, the Chesire and the Leopoldville.  A German torpedo ripped into the transport Leopoldville just 5 miles from its destination of Cherbourg, and 14 officers and 748 enlisted men were lost.
Prior to the attack, the Leopoldville had made 24 cross-Channel crossings, transporting more than 120,000 troops.  The Leopoldville was in a diamond formation with four escort destroyers, Brilliant, Anthony, Hotham, and Croix de Lorraine, and another troopship the SS Cheshire embarking from Southampton, England that evening.[2]
On the day of the attack, the Leopoldville was carrying reinforcements from the 262nd and 264th Regiments, 66th Infantry Division of the United States Army towards the Battle of the Bulge.  Of the 2,235 American servicemen on board, approximately 515 are presumed to have gone down with the ship.  Another 248 died from injuries, drowning, or hypothermia.  Captain Charles Limbor, one Belgian and three Congolese crew members also went down with the ship.  An unknown number of British soldiers died.  Documents about the attack remained classified until 1996.
One of the escort destroyers, Brilliant, came alongside the stricken vessel.  Soldiers on the Leopoldville jumped down onto the smaller Brilliant.  The destroyer could take only a few hundred of the men and headed for the shore.  No further rescue attempt was made, and some 1,200 men were left aboard.[3]  USS PC-1225 also rescued survivors.[4]  The Leopoldville stayed afloat for two and a half hours after the torpedo hit, after which it sank.[3]
Extract from: https://en.wikipedia.org/wiki/66th_Infantry_Division_(United_States)
Related Images Click to Enlarge
Extra Documents
"An All-Round Fellow" – Vignette written by Kelly Durham for The Echo