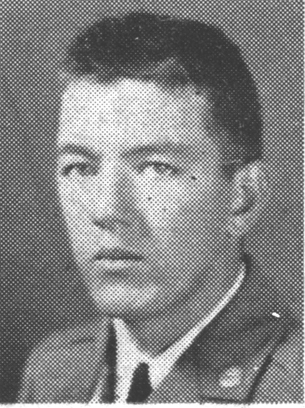 1939

Left Clemson after his sophomore year.

Dillon, South Carolina

Wife - Evelyn Holder Rowland; parents - William Wyche Rowland and Jewell C. Rowland; son - John E. Roland, Jr.

Army, Captain

369th Engineer Regiment

Nov 20, 1917

Sep 9, 1945

Died Non Battle - Died in a Jeep accident in Luzon, Philippines one week after the occupying Japanese forces surrendered.

Initially buried in the Philippines – Remaines were returned to the family in Hamer, SC and reinterred in Kentyre Cemetery.

NE
Personal Remembrances
John Ed was born in Hamer November 20, 1917, a son of W.W. and Jewel Rowland.  He attended the grade schools in Hamer, and completed high school in Dillon in 1935.  He entered Clemson that same year, but had to drop out after his sophomore year.  On April 12, 1942, John Ed married Evelyn Holder of Jonesboro, NC, and the very next day enlisted in the army at Fort Jackson.  He was sent to Claiborne, LA for training and duty with Company C of the 331st Engineer Battalion.  At Claiborne he entered the Officer Training School, and was commissioned as a 2nd Lieutenant on November 25, 1942.  In December he was transferred to the newly activated 369th Engineer Regiment, with which he trained at Claibourne and the Desert Training Center in California.  On March 6, 1944 he departed the San Francisco POE with the 369th Engineers for service on Guadalcanal.  1st Lieutenant Rowland was on Guadalcanal until June of 1945, when he transferred to Manila.  On September 2, 1945, the Japanese in the Philippines finally surrendered to the American forces.  One week later, Captain John Ed Rowland died in a jeep accident in Luzon.  His body was initially buried in the Philippines, but was brought back in 1950 and re-interred in Hamer in the Kentyre Cemetery.
John and Evelyn had one son, John, Jr. who died on June 12, 2000.
Biography written by James O. Sweeny, Clemson College Class of 1939.
Additional Information
The Dillon Herald
,Dillon,South Carolina
Thursday – February 24, 1949, Page 7 Col. 3
Reburial Services For Capt. John E. Rowland 
On Friday morning, February 11, the body of Captain John E. Rowland, one of the country's fallen heroes, arrived by train in Dillon, accompanied by an officer of the United States Army.
On Sunday afternoon at two o'clock graveside services were held in "God's Acre" at Kentyre church, conducted by Chaplain James W. Moviell, presently of FortJackson, together with the minister of the Dillon Presbyterian church, a personal friend of all the members of the bereaved family.  Another minister offering his sympathetic presence to the assembled group was the Rev. C. P. Coble, Pastor of Hopewell church in Florence County and of Latta church.  The service was opened with a hymn, sung by a choir of friends from the county.  Following the song Chaplain Moviell read passages from the Bible, having been introduced as a minister ordained in the Congregational church.  After the reading of the Scripture, the congregation was led in prayer.
The minister called the family's attention to the sympathetic gesture of the host of friends gathered from a wide section of the area and of the manifest concern of our government in going to any length to bring back to us our beloved dead from the remotest reaches of the earth.
Veterans of World War II served as pallbearers.  Captain Moore and Wilmer Lee, service officer of the American Legion, folded the flag which Mr. Lee presented to the family with appropriate words of sympathy and appreciation.  Words of committal were repeated, a firing squad from Fort Jackson gave its salute, from the near distance a bugle softly sounded taps.  God's sun bathed the bared heads of the assembled worshipers as God's benediction was pronounced, and so came to an end this part of the earthly tribute to another soldier who had served his day and time well, and had come home for his final resting place in the churchyard of his boyhood home.
Captain Rowland entered service on April 11, 1942.  Received his basic training at Camp Claiborne, La., he attended Officers Candidate school at Fort Bevoir, Va., after which he returned to Camp Claiborne where he was a lieutenant in the 369th Engineers.  This regiment was sent to California where it built several hospitals and camps in 1942-43.
Captain Rowland left for Guadalcanal in March 1943 where he spent 14 months in construction work.  He was promoted to captain on December 31, 1944.  In June, 1945 he was sent to Manila in the Philippines where he remained until September 1.  He was moved to Luzon and died nine days later from injuries sustained in an automobile wreck.
Captain Rowland graduated from Dillon high school and attended Clemson college two years.
Survivors include his widow the former Miss Evelyn Holder of Jonesboro, N.C.; a son, John Edward, Jr., 5; his parents, Mr. and Mrs. W. W. Rowland of Hamer, and the following brothers and sisters: R. A. Rowland of Dillon WS-1C J. C. Rowland, USN in the Pacific, Mrs. C. B. Skipper of Fayetteville, N.C., Mrs. C. D. Powell of Latta, Mrs. Maxwell Booth of Bamberg and a half-sister, Mrs. Erwin Williams of Lumberton, N.C.
Obituaries were provided by Helen Belden Moody – Visit Helen's Little Corner at https://www.helenslittlecorne
Related Images Click to Enlarge
Extra Documents
Vignette in The Echo written by Kelly Durham – Bracketed by Wars