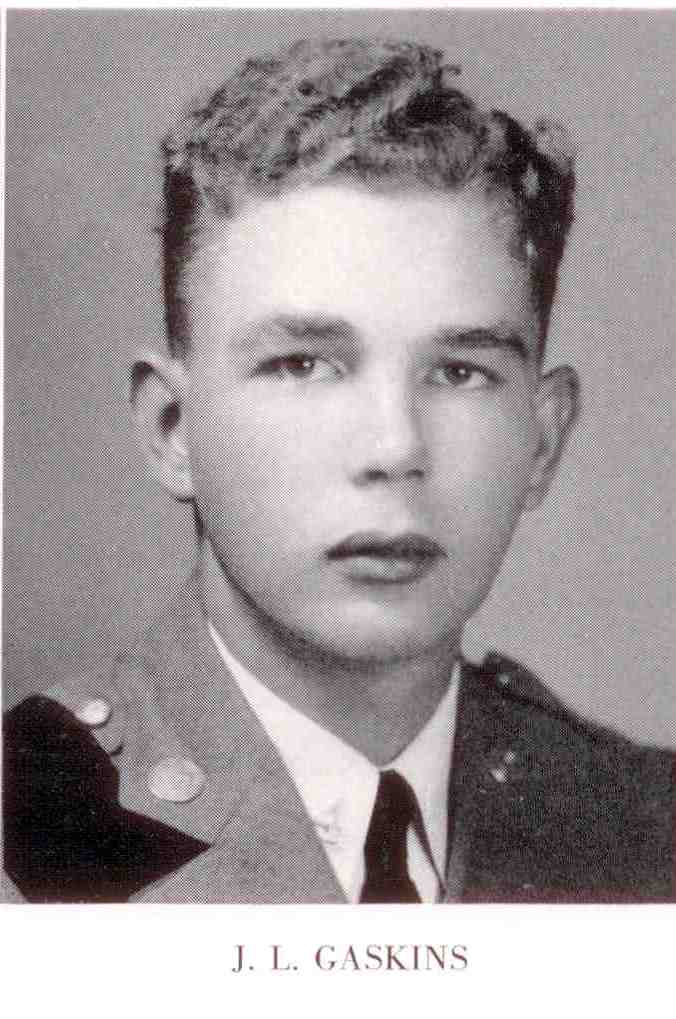 1939

Vocational Agricultural Education

Dairy Club; Intramural Basketball; Rifle Marksman; BSU Council

Timmonsville, South Carolina

Wife: Margaret Galloway; Parents - Louis Beaty Gaskins and Cora Carter Gaskins

Army, Captain

2nd Battalion, 359th Infantry Regiment, 90th Infantry Division

Silver Star, Bronze Star and Purple Heart

Aug 8, 1918

Dec 9, 1944

Killed in Action - Germany

Lorraine AMC, Plot J, Row 23, Grave 10

SW
Personal Remembrances
Curly (as we knew him in school) was born in the Lake Swamp community near Lamar in 1919, a son of L. Beaty and Cora C. Gaskins.  He received his early schooling in Timmonsville and entered Clemson in 1935.  In college he was a member of the Dairy Club, was a Freshman Forum Advisor his Junior year, and was a member of the BSU Council, serving as its Vice President his senior year. He graduated with the Class of 1939 with a BS degree in Vocational Agricultural Education.  After graduation he taught in the Latta schools tor a while. In May 14, 1944 he married Margaret Galloway of Timmonsville in a military wedding at Camp Forrest at Tullahoma, TN.
On February 18, 1942, he entered into active duty in World War II.  In December, 1942 he was assigned to Company F of the 393rd Infantry Regiment of the 99th Infantry Division, which was activated in November at Camp Dorn.  After training at Camp Dorn, MS, and completing the Officer's Advanced Course at Fort Benning, now Captain Gaskins departed with the division for overseas duty in France in April of 1944.  On December 29, his family was informed by the War Department that Captain Gaskins, by then Executive Officer of the Second Battalion, 359th Infantry Division, had been killed in action in Germany on December 9.  He was killed in the Saarlautern offensive, a week before the German Ardennes attack called the Battle of the Bulge.  For gallantry in action against the enemy, he was awarded both the Silver and Bronze Stars and the Purple Heart.  He also was awarded the European African Middle Eastern Campaign Medal with one bronze battle star.
Captain Gaskins is buried in the Lorraine American Cemetery in France.  Survivors at the time of his death included his widow and his parents; one brother, Pvt. James C. Gaskins, who was then serving with the Fifth Army in Italy.  John and Margaret had no children.
Biography written by James O, Sweeny, Clemson College Class of 1939.
At the time of his death, Captain Gaskins was Executive Officer of the Second Battalion.
Additional Information
Related Images Click to Enlarge